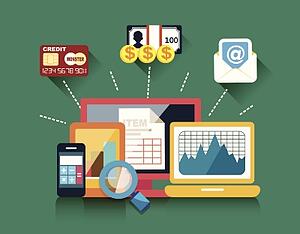 So many marketers set goals of increasing website traffic, getting more visitors to your website and so on…
These are important goals when using internet marketing for your small business, especially when you implement inbound marketing strategies. This is all fine and dandy and a really great place to start if you are just getting on the web or if your website isn't attracting visitors at all. But increasing lead conversion rates is where you will start to see a real impact on your ROI and allows you to grow your business full of passion and provision.
So, what if you have 2000 people visiting your website each month? The real question becomes, "where are the customers?" As internet marketers we work really hard to make our client's websites as "findable" as possible as people use search engines to research products and services. Here at Half a Bubble Out, we do this for our clients through the attracting stage of inbound marketing.
Where inbound marketing strategies pull away from the pack is in the conversion stage of marketing. By using calls to action, unique landing pages, and forms to capture lead information for your sales team, inbound marketing transforms your website from a "nice, helpful read" to a lead capturing machine.
So what's the big deal?
The big deal is that by using inbound marketing strategies, businesses see an increase in conversion rates. Want your conversion rates to be over 2%? Using traditional or "outbound" marketing strategies, marketers have a 1.7% average close rate, but when using inbound strategies to attract and capture leads, the close rate goes up to and average of 14.6%! (Search Engine Journal)
What are other companies doing, and are they seeing results?
Here are some facts that might just put things in perspective:
Content marketing generates 3 times as many leads as traditional outbound marketing, but costs 62% less. (Demand Metric)
92.7% of companies using inbound marketing increase their lead generation. (HubSpot)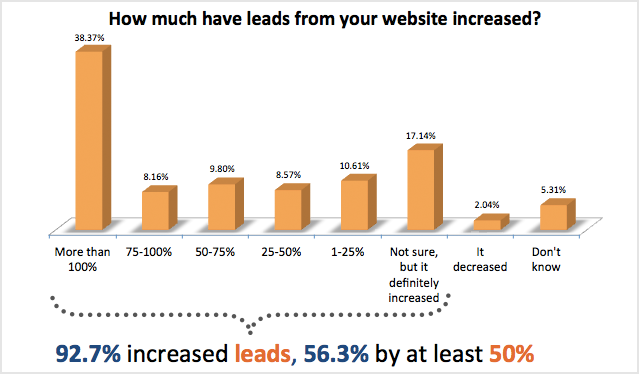 Image Source: HubSpot
So what affect do the inbound tools like calls to action buttons, landing pages and forms have on small business lead generation?
According to HubSpot's State of Inbound 2013 survey, companies with more than 30 landing pages generated 7 times more leads than companies with only 1 to 5 landing pages. If that isn't enough to impress, companies with 40 or more landing pages generated 12 times more leads than those with only 1 to 5 landing pages. Clearly, landing pages have a positive impact on lead conversion rates.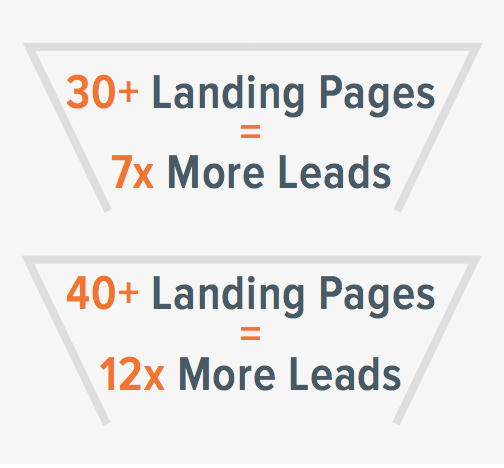 Image Source: HubSpot
Are companies really seeing definite results from using inbound marketing to attract leads?
The answer is DEFINITLEY! And it also works across business types and industries.
Half of marketers across B2B, B2C, and nonprofit sectors ranked inbound as their primary lead source, exceeding the average (42%) of all other channels combined.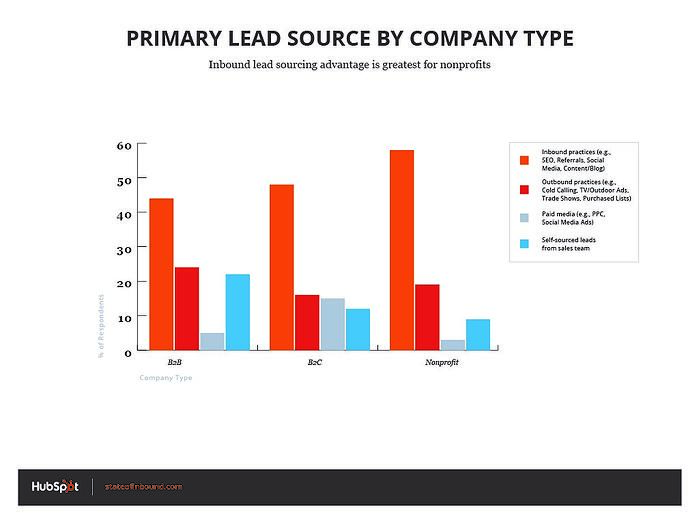 Image Source: http://www.stateofinbound.com/
There is no doubt inbound marketing techniques are proving to be effective across businesses, large to small. Using inbound marketing to convert visitors to leads is transforming the way businesses view their website and they are now seeing their website as a 24/7 lead capturing machine-even working for the marketing and sales departments in your sleep!
So what are you waiting for? Start today and transform your website and your online strategy with inbound marketing and see a direct impact on your business's bottom line. When your marketing strategies bring in new customers you can focus your time and energy on growing your business for the future.
Looking for an Inbound Assessment of your company website? Contact us today!
Learn more about hiring an inbound agency in the free download below.
Since 2002, Half a Bubble Out has been dedicated to providing marketing, advertising and small business consulting that meet the needs of our clients. We specialize in powerfully telling stories through inbound marketing to grow your business filled with more passion and provision. Based in Chico, California, we serve clients throughout Northern California and across the country to New York.