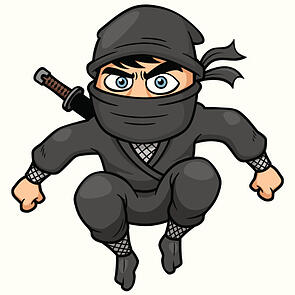 So, are you trying to figure out how to add keywords to a website so it can rank in the SERPs (search engine results pages)?
Stop trying to stuff those website pages with keywords until they are bulging at the seams. Google doesn't like that anyway. Many times, there is no need to create new website page tabs and drop down tabs for a new keyword category you want to rank for. This makes your website feel like a maze to your visitors. So what do you do instead of all these crazy SEO tactics?
Be a ninja and do it with no one noticing. Make it easy to sneak in as many pages as you want, each focused on its own keyword, and make the search engines very happy. Your website visitors will be happy too.
How, you ask?
Well, start a blog of course!
A blog helps add keywords to a website--how?
I am so glad you asked.
Blog pages are like the stealthy folklore that surrounds the ninja. No one notices them doing their job, but the more you post--before you know it--your goal is achieved!
So you are probably still wondering about the reference to turtles- well, yes, I just so happened to see the trailer for the upcoming Ninja Turtle movie- but in reality, a blogging strategy for how to add keywords to a website and to increase your website ranking is going to be a slow process that builds (slow like a turtle). But then, when a blog ranks, it takes off! For some inspiration, check out the movie trailer:
Excited? You should be-since adding a blog is a great strategy to add keywords to a website. Every blog post you write adds another page to your website, without filling up your tabs or navigation bars. Add as many blogs, on topics related to your business and industry as you want. As you keyword the blog posts, you are adding keywords to your website.
If you are pumped to get going, here are a few tips:
Find a

blogging platform

that meets your current needs and can expand with your growing business. We recommend platforms such as

HubSpot

or

WordPress

, but there are many to choose from.

Do

keyword research

in your industry. Find the low hanging fruit- add keywords that are being used by your potential customers and are not too difficult to rank for.

Commit to blog writing

as much as possible! Depending on your time and resources, we recommend blogging no less than 2 times a week, but preferably once a day. The more the merrier we say-like with the Turtles- four is way better than one.

Be intentional

about blogging with your keywords as well as to your ideal customer persona.

Add keywords to a website

strategically- In your title, within the first and last 120 words as well as sprinkled throughout the blog post with about a 1% frequency.
As you continue to blog with your keywords, adding them strategically throughout your blog posts and are consistent in your blogging endeavors, your website will sneak up on those competitors. Cowabunga Dude! It will bust in like a Ninja Turtle and destroy the competition!
Well…website traffic may not happen quite so dramatically for your website, but hey, why not add keywords to a website like a Ninja Turtle? You might just surprise yourself.
Related Articles:
Why Blog? Because Santa Loves to Read Blogs…and Your Organic Traffic Might Grow Too!