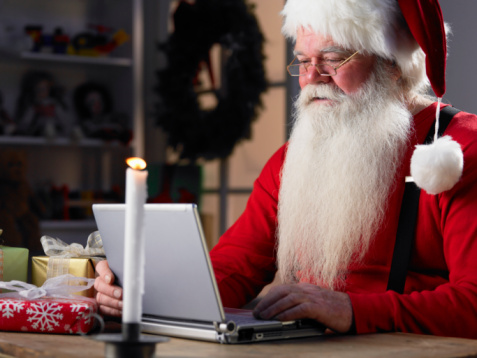 Santa's busiest day of the year is almost upon us, but what do you think Santa is doing with the other 364 days of the year? He has elves for making the toys and gifts, and Mrs. Claus takes care of the meal preparation so Santa is all about learning the rest of the year. He is looking for valuable information that he can pass on to his friends and neighbors. Recently a small business owner asked Santa the question "why blog" and he had to research a good answer. Since then he has signed up for our blog and he is deeply interested in internet marketing.
Why is Santa following us now?
Because when he entered the question "why blog" in Google, he found the answer in a blog post Half a Bubble Out wrote! He was convinced, but if Santa's endorsement isn't enough for you, I just want to encourage you again with some cold hard data that answers the question "why blog." A year ago or so as our company was looking to step up our own marketing and also serve our clients better, we talked a lot about blogging and the concept that writing new content on a regular basis was likely the best way to grow traffic online. We sort of believed ourselves and we certainly trusted the research we were doing that supported that idea reflected in the views of people who were further along than we were and were super smart! We chose to partner with HubSpot, take their advice about Inbound Marketing, and give this thing a whirl. The whole Inbound Program is bigger than just blogging, but it is all about creating content online that people want and are looking for, and blogging is at the heart of the matter.
What We Did to Give Santa Reading Material
We chose to experiment with blogging in a way that we knew most companies couldn't or wouldn't choose and that was by committing to posting a blog at least 6 out of 7 days every week. After all, Santa needs consistent reading material! What would happen if we did this? Would it really make a difference in our traffic, which ultimately would provide us with more leads and more business? Would we be able to produce results that would help us when clients or potential clients were asking the "why blog" question? We were nervous, skeptical, and I will admit, not super excited about how much content we would have to produce to keep up this commitment. But, you can't ask a client to do something you won't do yourself, so away we went!
The Result: Crazy Organic Traffic Growth
I know I've shown this chart before in another blog post about blogging, but it bears another look. This is a graph of our organic growth since starting our serious blogging program. If you aren't sure what organic means, it is simply when people find you on the search engines (Google, Bing, Yahoo) by typing in a query or question and your website comes up as being a good answer for this query. Organic growth is, by definition, the most important growth and is the pinnacle of that thing you hear about called SEO (Search Engine Optimization). It means that your website is providing content and information that people are looking for and you have made it findable! You can see how that matters, right? Well, here is what happened with our organic growth from May to November of 2013:
Breaking this chart down for you, in May of 2013 we were just over 600 visits from organic traffic (which was up from 319 in April by the way). In June we danced a jig as we broke 1000 and then things settled for a while. We kept blogging and working away, using the same topics around Inbound Marketing and suddenly in October, we had a huge jump to just shy of 2000 organic visitors and danced another jig! Then November came and we were stunned and amazed as the number went from 1964 to 3602! What the heck? This thing might be working! Now here in December we are mid-way through the month and are already ahead of our record breaking October month so we are watching and waiting and blogging and smiling.
Another Result: Overall Traffic Growth
The previous chart highlighted just the organic growth, but our overall site growth has been steady also. The dark blue is direct traffic, so it represents people who are thinking about us and heading straight to our site for information or help. To put this in perspective, our overall traffic when we started down this blogging path was averaging around 500 a month and had been that way for quite a while. The year 2013 is the year of the blogs and offers on our website, and we broke 5,000 visitors in November. I think 10 times growth or 1000% in under a year is a great answer to the question "why blog?"

The Year Ahead
So, as you look at 2014 and think about your New Year's resolution for internet marketing, can I just suggest to you strongly that blogging might need to be an important component. Sure you might not be able to do 6 days a week, but even 2 to 3 will begin to position you as a company that is engaged online and, done well, can have a serious impact on your business. It is a long term strategy, so you might be asking the ROI question of me: have you landed new clients? The answer is yes…we have landed one new contract but in addition, we are having the chance to have conversations almost weekly with new opportunities that will, in time, lead to new contracts. Why blog? Because organic growth on your website is the evidence that your website is working for you.
Have I given you a decent answer for why blog? Are you ready to join Santa and turn up the volume on your marketing? If you have questions or are ready to think about a blog strategy or an overall "Inbound" approach to your marketing in 2014, read a few more of our blogs or download a whitepaper.
Ready to talk? Give us a call.