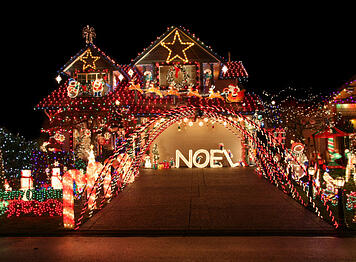 As we drive around this Christmas season, we enjoy the sights and sounds of the season. One family favorite is the Christmas light displays. Many towns even have a map of the "Tour of Lights" with the most popular addresses, with a route so you don't miss any.
This has become such a holiday tradition that our cities are even brighter when being viewed from space during the holiday season. Crazy! Who knew Christmas light displays could reach that far and have such an impact!
Well, the same goes for marketing online. It is amazing how far your reach can go with a well-planned inbound marketing strategy.
Attracts visitors - Just as a bright glow of Christmas lights from down the street attracts car loads of visitors to drive by, using an inbound strategy attracts visitors to your website who would be strangers to you without using inbound. Your blogs and content shared on the web will attract the right kind of visitors to your website.
Bring joy and spreads good cheer - When visitors come to your website and read your helpful content that answers their questions and shares solutions to the problems they are facing, you are spreading good cheer and bringing joy to your new leads.
Inbound marketing also is used to delight your customers. Those people who have already had a cup of your cocoa and love to come back for more. Using email marketing in an inbound strategy can keep your lights on and bring joy to your customers.
Strategy that links all the pieces - Typically in a light display, one strand of lights links to another and another. Sometimes they are so dependent on one another that if one strand of lights goes out, the others do as well. They are a system, they are connected. Inbound marketing can be a system that links together calls-to-action, landing pages, forms, downloads, videos, follow up emails and so much more.
Put your display on auto timer mode - Using an inbound marketing software like HubSpot, you can connect your website and Inbound funnel to an "automatic timer" so that each piece of content is working for you even if you aren't working. When a visitor downloads a piece of your awesome content, automatic personalized emails can be sent to them with more helpful information so you continue to spread good cheer.
Unique to your personality - Just as every light display is unique to the designer and to the home, an inbound marketing strategy is unique to your business. You have something that makes you special and when you shine your uniqueness in your inbound marketing, you are setting your business apart. You are sharing what makes your business unique and what you bring to the table - or to the street.
Posted all over social media - Lastly, when your display is outshining the rest, you will get noticed. As visitors come, they will take notice. As you do great things, add more displays or add something cool like music and a kid sized train, post it out on social media and see how many more visits you get. Building real relationships is key to inbound marketing. Social media is a great way to share what you are doing as well as comment on other's light displays or marketing content.
So if you are ready to create an inbound marketing strategy that will stay up all year long and last though the holiday season, contact us at Half a Bubble Out. We love helping businesses grow with passion and provision and this can start with creating an inbound strategy that is unique to your business. Remember, marketing isn't for one season. Keep your inbound marketing lights up and get more customers all throughout the year.