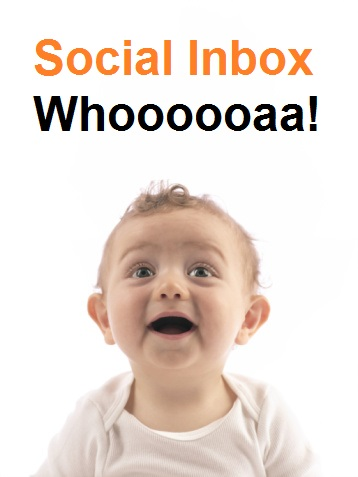 It's Here!
The all new Social Inbox feature from HubSpot!
Wondering why social media is important? Well, we could go on for days and tell you why or we could just say you won't survive without it and tell you why this tool will set your company light-years ahead of your competition in the social media realm.
6 Reasons Why Social Inbox is the Best!
Here are the top 6 reasons why you need to head over to HubSpot and start using this feature. It's revolutionizing the internet marketing and social media world.
1. Focus on People, Not Just Keywords
Most social media tools just monitor the keywords you tell it to, then spits out a list of any Joe Shmoe who has mentioned your keyword topic, no matter who they are, where they're from, or if you've interacted with them before.
Social Inbox monitors keywords and then some by allowing you to view social activity by the people that matter to you, like actual customers and leads.
2. View All Interaction History, Not Just Clickthroughs
Other Social media tools do give you the ability to view the clickthrough activity for any links you post to your social accounts which is kinda helpful, but doesn't give you much to go on.
HubSpot is cool because its analytics span all tools in the software, which means you can see the entire history of interaction from every single person that visits from social media. You can even see the pages they visit and how often.
3. Offers Integrated Not Isolated Tools
Social media tools often stand alone, disconnected from the other software you use. This forces you to have to grab your data from a bunch of different sources and takes a lot of tedious time.
HubSpot's tools are 100% integrated, allowing all of them to work together and keeping your data all in one place.
4. Great for Your Marketing Team
Find the right prospects for your marketing team with Social Inbox. Specifically designed to bring your team closer to sales opportunities on social media outlets, Social Inbox makes it easier than ever to get personal with your social media fans.
5. Benefits for Your Sales Team
Your sales reps can now monitor lists of their leads only. Then they decide if they want to respond from their personal Twitter accounts within HubSpot, or send an email instead.
6. Don't Forget About the Support Team
Provide your customer service representatives with notifications when a customer tweets a reply to your company. They can even target specific keywords to track customer sentiment, allowing them to provide better support and customer service to your leads and customers.
Watch Social Inbox in Action
Take a look at this HubSpot video featuring what Social Inbox can do for your company. Get ready to be blown away!
What Are You Waiting For?
If you're still asking the question, why is social media important, you're behind the curve. Start grabbing social media by the horns and start racking up the leads and conversions with the assistance of Social Inbox.
Next Step…
Go to Social Inbox.
Related Articles:
Why is Social Media Important for Your Biz? [Infographic]
Why is Social Media Important? One Night Stands vs. Long Term Relationships