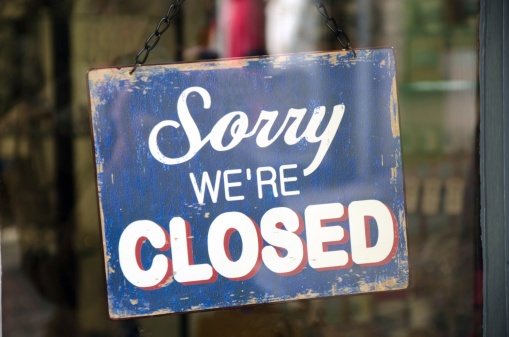 Sometimes the death of a business is somewhat personal and triggers a sense of nostalgia. In the world of small business, companies come and go all the time with little more than a raised eyebrow – but every once in a while the closing of a local business surprises you.
Death to a Company
This weekend a local restaurant and pub in our hometown closed after 40 years of business and it did it with only one day notice. That restaurant was an old landmark in Chico California and it was called The Graduate.
As a business owner and small business consultant I'm always looking at companies that survive and do well and those that don't. A company's goal is to create such a following that it actually causes its customers to bond with it. If this bonding begins to occur then a company can have wonderful success, but if no one bonds with it then apathy sets in. This is death to a company.
The Place to Be
This morning at our staff meeting the news spread. Some of us knew about it and others didn't. I was one of the ones that did not. I was really shocked and then I realized that I hadn't been there in over a year. The Graduate was a sports bar with multiple screens but it wasn't always a sports bar. It used to be one of the great places in Chico to go dancing.
Four or 5 times a week students form the University would flock to The Grad to find loud music pounding out the popular rhythms of the 70's and 80's. Since I was in high school during the early 80's we would end up at The Grad during the summers on Wednesday nights, which was always under 21 night. There was always a line out the door and I'm sure that The Grad contributed to some of my hearing loss. I don't know if you had a place like this, but if you did you know that it was where you saw all kinds of people. It was the place to be – especially if you were a minor with very few options in town.
My wife and I both have a few memories from The Graduate. (If you didn't know it, my wife and I went to the same high school but we didn't date in those days; far from it. That, however, is a story for another day).
The Beginning of the End
Sometime in the 70's or early 80's someone built a senior apartment structure next door to The Graduate. Looking back, this would contribute to the slow death. You see, there were complaints of loud music and drunken students wondering the neighborhood. Eventually, those complaints led to The Grad loosing its license to have dancing on the premises if my memory serves me. That was the beginning of the end.
The Importance of Reinvention
By that time I was older and moving on with my life. The one thing that made the place so mythic became a thing of memories and legend. AKA, old news. What The Graduate didn't do was reinvent itself.
As time passed, The Grad went from "that really cool bar where we all went dancing" to a converted sports bar. From my perspective, over the last 20 years it has coasted on its old brand instead of trying to make a new one. Nostalgia is a powerful tool for a business, but you have got to use it carefully and be active in it. Disneyland has kept its core purpose of providing wholesome entertainment while capitalizing on the nostalgia factor. Notice they didn't give up on their core purpose.
Nostalgia Isn't Enough
The Graduate wasn't able to keep the dancing so it tried to adapt to just a good place for a burger and beer while you catch a game. It never looked like it ever tried to really rebrand who it was. Eventually the nostalgia without the original secret sauce brought the owners to call it quits. I'm sad that The Grad is gone and that I can't go back to think about the old times, but a walk down memory lane alone doesn't put enough money in the register to keep the doors open.
The Grad is a great reminder to all of us that run or work for a small business that when the market changes and life throws you a curve we need to adjust. We must seek to bond to our customers in a way that we can deliver on our promise. On either side of success there are always lessons to learn. This time it came from an old friend closing the doors.
I wonder what restaurant will be next to gain my business and bond with me enough to create memories I can share with friends and family?
Since 2002, Half a Bubble Out has been dedicated to providing marketing, advertising, and small business consulting that meet the needs of our clients. We specialize in powerfully telling stories through Inbound Marketing to grow your business filled with more passion and provision. Based in Chico, California we serve clients throughout Northern California and across the country to New York.