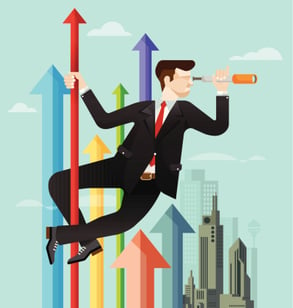 Are you spending money on marketing your small business and wondering where it's going? If it currently feels like you're throwing your money out the window while driving down the highway at 70 miles an hour; or watching the coins slowly slip through your fingers like grains of sand on the beautiful beach you wish you were spending your hard earned dollars on vacation, then you need to examine your small business marketing strategy.
If you're at the point where you're questioning the ROI you are getting from the money you're spending on marketing, first consider the challenges you're being faced with and the one thing you can do to combat each, before giving up your marketing strategy altogether.
Challenge #1: You aren't getting results fast enough
Action: Evaluate how competitive your market is, as well as the sales cycle in your industry. If your competition is high or your sales cycle is long, it will take longer to see results. For example, if you're in the automotive industry, the sales cycle for someone needing new tires is shorter than someone needing a new car.
Challenge #2: You can't see the big picture
Action: You need to understand the context of your marketplace. Know what to measure and how to measure it. For example, the number of bodies that walk into your store. The number of people who visit your website. What they do once they're there. Do they window shop? Strike up a conversation? Download an eBook? Purchase a product? Be willing to do or invest in the work that's required to find out this valuable information. It will show you where your gaps are and where you can improve.
Challenge #3: You've stopped improving
Action: You have to put more time and energy into your small business marketing if you want to get better and move to the next level. You've reached what Seth Godin calls The Dip, and argues in his book of the same name that "we often quit the wrong things at the wrong time, and getting better at seeing what matters can transform your career and your work."
…and your marketing strategy.
If you feel like quitting, don't give up yet! If you're willing to do the work, contact us at Half a Bubble Out. We can help you implement the actions you need to take now to start getting results from your small business marketing.
Since 2002, Half a Bubble Out has been dedicated to providing marketing, advertising and small business consulting that meet the needs of our clients. We specialize in powerfully telling stories through Inbound Marketing to grow your business filled with more passion and provision. Based in Chico, California we serve clients throughout Northern California and across the country to New York.