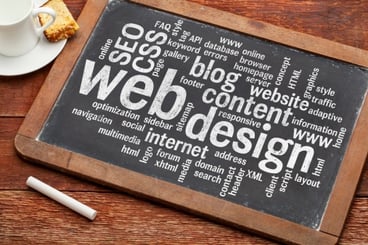 Website redesign projects seem to be born out of a variety of different issues unique to your business. But usually, if narrowed down to the core level, a redesign is necessary for one of two reasons: either there is an issue with the way your website "looks" or the way it "functions." Quite possibly it could be a combination of factors that include both the "look and function." Whatever your motivation is for a website redesign, there are quite a few things to consider and questions to be asked.
If you're looking for your website to be a marketing and sales asset to work on bringing business leads and customers, then might I suggest you find an inbound marketing consultant to help you in your redesign. If you find a great designer your website will look great, or if you find a great marketer your website will meet your business needs. But when you find an agency that can create both a website that looks great AND is designed to meet your business goals, then it will be worth your company's time and money!
When you hire an inbound marketing consultant, they will be asking you questions that focus on your brand and your marketing strategy as well as the technical aspects of your website. Inbound marketing is focused on providing high-quality content that educates and helps so that your potential customers understand and know your value and ultimately want to be your customer! Because of this, the initial questions you will be asked include those with high-level strategy and goals as well as the technical pieces you are looking to include on your new website.
To help you in this process and prepare to find the right inbound marketing agency to help with your website redesign, here is a list of questions complied from our own list as well as our software partner, HubSpot:
Overall Marketing Content Strategy Questions
Determine your goals-
Why are you doing a website redesign? What are you hoping to achieve?
Define your brand-
What is your business's unique value proposition?

What is your message, is it changing and if so how?
Define your buyer persona-
Do you have a defined target audience?

Is your audience changing or staying the same as part of this redesign?

Does your current message and branding align with your audience?
Current Website Analysis-
What is your current monthly average for website visitors, leads, customers?

What is the average time on site?

Which keywords are top performing?

What is the number of total pages, as well as inbound linking domains?
Competitive Analysis-
Who are your top ranked/main competitors?

Are there competitor websites you really like? Or which parts do you like?

What are the keywords in your industry and how competitive are they?
Website Specific Questions
What do you currently like and dislike about your website?

What is currently missing from your website?

How well is your current website meeting your goals?

What is the first impression you want to give your target audience?

What are currently your most visited pages? What assets are your strongest currently?

Which content/pages stay and which ones go?

Which content needs to be rewritten and which can be used as is?

Do you plan on having a blog?

Do you have staff who can create content, or will you need content creation services?
Website Design/Technical Questions
Will this redesign be a whole new website or consist of small changes?

What are key aspects of your brand style guide that need to be included and followed in the website redesign?

Will the domain name change at all? What subdomains are being considered?

Is there a specific hosting platform/content management system your website needs to be on?

Will your website need to include e-commerce or a merchant services account?

What are "must haves" on your new website?

What are "would be nice to have or add later" items on your website?
Project Management Questions
What is a realistic timeline for this project as well as a target date?

What is your budget for this project?

Who will be the main contact at your business for this project?

Who will be involved in the approval process?

Who will be the point of contact for content and/or decision making?
These questions are part of the strategy and planning process of your website design. As you answer these questions, more will inevitably come up. That's why having an inbound marketing consultant manage your website redesign process is so valuable.
Here at Half a Bubble Out, we not only look at your website design through the marketing lens, we value high quality, user-friendly design. We understand the important questions to ask. We understand how to tell your story. We understand how to develop content and write content for you. We understand how important it is for your business website to not only show who you are through design, but also show your competency and character in the way your website functions. We are inbound marketing consultants who understand what works to bring you more customers.
Ready for a redesign that allows your website to work for you, showing off your strengths and what sets your company apart in your industry? Then contact us at Half a Bubble Out and let's get started today!
Since 2002, Half a Bubble Out has been dedicated to providing marketing, advertising, and small business consulting that meet the needs of our clients. We specialize in powerfully telling stories through inbound marketing to grow your business filled with more passion and provision. Based in Chico California, we serve clients throughout Northern California and across the country to New York.