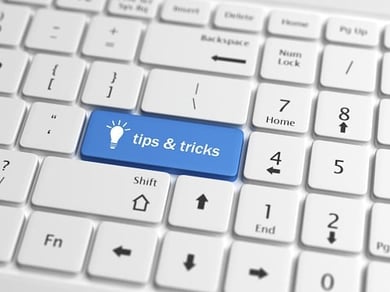 Along with our own experience as a marketing agency, I've collected some of the best SEO tips and tricks from across the web. If you're a business owner that's trying to get the most out of your search engine optimization strategy, you've come to the right place.
SEO can be difficult to understand but in order to have a successful website it's necessary. Here are some tips that will hopefully help you in that process and lead you on the way to implementation. As always, we suggest finding an experienced agency or marketer that knows what they're doing and can get you results.
Use Good Tactics/Don't be Shady
It's simple. Don't buy links. Don't spam other people's blog comment areas with links. Don't stuff keywords or use keywords that are irrelevant to your content (HubSpot). Boom, you're in the clear. Be natural, be helpful, educational and honest. Yet, be strategic.
Create Good Quality Content
Google now recognizes quality over quantity. Although it's still possible to fool Google by using shady SEO tactics, it eventually won't end up in your favor. Google will find you and will paralyze your site, leaving you with no credibility and a lousy domain authority. It's best to stay honest and create good quality content that people actually want and need. While it can be a slow trek, you will increasingly see the benefits of doing this over time.
Find the Keywords Google Attributes to Your Site
It's important to know what Google is already ranking your website for and what it [thinks] your business or website is talking about and is the main focus. Ideally, it will align with what you actually do!
Optimize Your Website Wisely
Never put "home" in your page title on your homepage. This is one of the biggest mistakes that businesses make when creating their websites. Almost any of your target keywords will carry more weight than the word "home," said Senior Inbound Marketing Consultant James Desmond of Blu Leadz. That means nothing to Google and doesn't explain what your site is about, other than it's a homepage. Take advantage of this opportunity to use your keyword.
Optimize Content on Your Website
This is similar to having your website copy optimized but in turn refers to the content that is added to that such as blogs and CTAs for offers. It's important that any added content to your website is optimized for the web and is SEO friendly as well (Moz). Each new page that's added to your website is important and is a chance for you to gain more traffic and move up on Google.
Choose Keywords Wisely
When choosing keywords we know it's tempting to want to go after the ones that rank really high in Google and are popular among your target audience. However, the difficulty of ranking for those is normally pretty high. That's why it's important to understand that you can still work on reaching those keywords by focusing on long-tail keywords (HubSpot).
Listen to Your Customers for Keyword Insight
When you're researching the keywords to use it's important to think like your customers. What questions do they ask you? What do you think they type into Google when they have a problem that your business can help solve? Remember that they will most likely not use familiar jargon that you use for your industry. It never hurts to ask your already existing clients or leads what they typed into Google to find you or how they describe what they're searching for.
Blog Often
Blogging at least three times a week helps to add new content to your website, which in turn adds more keywords and creates yet another page that Google can scan. Remember to keep the quality up in your blog posts and if you can't do that, focus more on quality not quantity.
Create Local Listings
Having listings on local review and business listing sites will help you to rank better locally. Having local listings also make it easier for potential customers in your area to get ahold of you. Check out this entire blog on local listings: Grow Your Small Business & Keep Up With Local Competition
Take Advantage of Google's AdWords Tools
Google's keyword planning tool (AdWords tool) is completely free. Many businesses don't realize this and are missing out on using a great tool because they think they have to run ads through Google to gain access. The AdWords tool allows you to compare data that is crucial for choosing keywords such as search volume, difficulty, etc.
Have a Mobile Optimized Website
This year Google notified businesses that if their website was not optimized for mobile, it would have a direct reflection on where you show up in search. Hm, that pretty much makes it mandatory if you care about your website rankings and traffic at all! So make sure your website is optimized for mobile, no if ands or buts about it.
If you need help implementing any of these SEO tips and tricks into an actual strategy, we can help.
Since 2002, Half a Bubble Out has been dedicated to providing marketing, advertising, and small business consulting that meet the needs of our clients. We specialize in powerfully telling stories through inbound marketing to grow your business filled with more passion and provision. Based in Chico California, we serve clients throughout Northern California and across the country to New York.