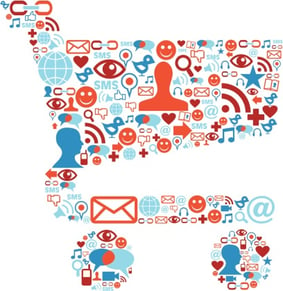 Do you want to be known in your area and have more potential customers walking through your door wanting your product or services? Local internet marketing is your answer. It's important as a business to be able to be found on the internet when potential customers are searching for something they are looking for in your area.
What is internet marketing?
Internet marketing is something that everyone today is familiar with whether they fully realize it or not. It's something we are exposed to every single day when we use our smart phones, computer, etc. Internet marketing is the process of promoting a brand, product or service over the internet. (Search Engine Journal)
What is local internet marketing?
It's just as it sounds - internet marketing tailored to your local area in which your business is in. Having local internet marketing is important, especially if you have a storefront, because you want people to frequent your business and become customers. You want them to think of you or be able to find you in a search when they are looking for a product or service that you offer in their area.
SEO Optimized for Local Search
In order to have your website and its content show up in local search, it's important to have your website optimized for local search results. You do this by using keywords that your potential customers are searching for, but tailor them down even more to location by including location based keywords. Here are some examples:
Instead of just using the keyword "pizza parlor" you would also use "pizza parlor in Chico," "pizza parlor in Chico, Ca," "Chico pizza parlor," etc.
Monitoring Local Reviews
Local online reviews have the potential to make or break your company. It's important to monitor your local reviews so that you know the feedback you are getting from your local customers, and so you can respond appropriately. Local reviews definitely impact your local internet marketing and the decisions a potential customer makes when choosing a business to use or purchase from.
Correct Listings on Search Engines
Having business listings on every search platform is incredibly important for locally based internet marketing. Having your business's information easily accessible for anyone looking for the products or services you offer will help to increase your opportunities for business. What's even more important is having the correct listing information. If your business listing information is not seamlessly correct over all listing sites, it will upset potential customers and cause you to lose business. Not to mention, you will also confuse Google who will then potentially not trust your listing and not show it to prospects.
A good way to make sure your listings are correct across the internet is to use a service such as Yext. This service can be very complicated to use, but an internet marketing agency will be able to help easily.
In fact, if all of this sounds a little complicated and you're wondering who can implement local internet marketing for your business or how to even get started, we can help!
Since 2002, Half a Bubble Out has been dedicated to providing marketing, advertising and small business consulting that meet the needs of our clients. We specialize in powerfully telling stories through inbound marketing to grow your business filled with more passion and provision. Based in Chico California, we serve clients throughout Northern California and across the country to New York.