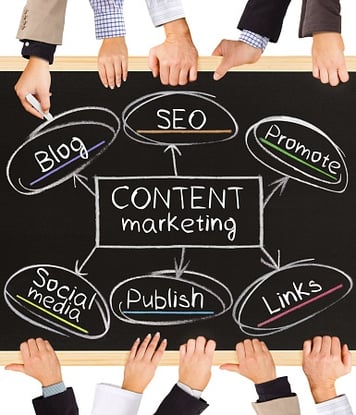 Some professions require little to no explanation.Think of that section on a form: Occupation __________. If the blank space is filled in with waitress, you know that person serves people their food. If it's filled in with firefighter, you know they put out fires. If it's filled in with preschool teacher, you know they're teaching kiddos their ABCs. But if you read the fill in the blank this way:
Occupation: Content Marketer
Place of Employment: Content Marketing Agency
Then people look at you with raised eyebrows. If you're a small business owner, you may have heard about content marketing, inbound marketing, digital marketing, etc., and you're wondering if you should in fact be hiring the services of an agency for your business. Content marketing isn't just a buzzword:
"Content marketing is a strategic marketing approach focused on creating and distributing valuable, relevant, and consistent content to attract and retain a clearly-defined audience — and, ultimately, to drive profitable customer action." – Content Marketing Institute
What services does a content marketing agency provide?
The name is completely self-explanatory – and extremely unclear – the agency creates content. That's like saying a waitress serves food. What kind of food? In the online world the meat of the content is the original creation of:
Blog articles
EBooks
White papers
Emails
Videos
Podcasts
Infographics
Web pages
Landing pages
Social media posts
But that's not all an agency will do. It will use that content to:
Build a holistic online strategy
Get your business noticed by Google through search engine optimization
Get your products or services found by potential customers
Promote your business on social media
Keep customers engaged
Track progress
Analyze the current strategy and refine
In 100 words or less...
If you want to keep ahead of your competitors, stay relevant in your industry, reach the people who are searching for what your business has to offer, turn strangers into customers, and customers into promoters of your company, and grow your business, then you're ready to hire a content marketing agency.
Don't worry about jumping on the bandwagon too late. There's always going to be new content to create – it's just going to have to be content that is much more targeted to your buyer personas, and that's how an agency can really help.
If you're ready to learn more, contact a content marketer at Half a Bubble Out. We're ready to help and tell your story.
Since 2002, Half a Bubble Out has been dedicated to providing marketing, advertising and small business consulting that meet the needs of our clients. We specialize in powerfully telling stories through inbound marketing to grow your business filled with more passion and provision. Based in Chico California, we serve clients throughout Northern California and across the country to New York.