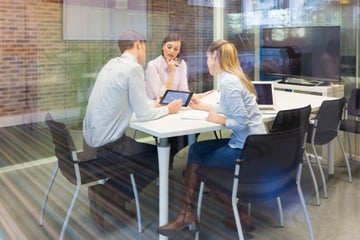 In order to fully connect your entire marketing strategy with your social media strategy, it's important to invest in social media training. Businesses often turn their heads to this, but it's a critical step. Don't make this mistake!
Social media training can be so much more than just training employees on how to use different social platforms and software. It can be used to:
Connect your entire marketing strategy
Create a more fluid process amongst all tactics
Form a relationship between the different marketing teams
Look at marketing as a whole and discover a holistic approach
While the very first social media training session is often an overview of different social platforms, software, and how to use them, it evolves from there. Often, the next step then is to use those platforms specifically for business and the tactics of social media marketing.
In a holistic marketing strategy, everything feeds off of each other and works in a sense of unity as long as everything is doing its job well. One of those portions is, of course, social media.
Connect your entire marketing strategy
This will end up producing better results for your business. It's important to remember there is much more to your marketing strategy, and social media is just one piece of it. You can't forget about your strategy as a whole because you need to be able to connect overall goals, keywords and themes.
Create a more fluid process amongst all tactics
It's important for your social media team to all have the same goal in mind and understand what tactics they are using to reach that goal. For example, automate your blog posts to post to your social media platforms in order to reach your goal of X amount of monthly visitors to your website. When everyone is on the same page things will go smoother!
Form a relationship between the different marketing teams
It's important for the social media manager or the social media team to have a relationship with the content marketing team, SEO team, etc. If the content team just published a new eBook, then the social media team can schedule posts relating to that eBoo. When there is a good relationship amongst different departments the entire marketing strategy, social media included, will work more seamlessly and most likely produce better results.
Look at marketing as a whole and discover a holistic approach
With social media training, your employees will learn how social media is beneficial and works best when it's not used solely by itself, but in addition to an entire marketing process with many other aspects. Again, it's just a piece of the pie.
If teams aren't trained on a way to connect and build relationships with other teams within the marketing department:
Your marketing will not be aligned
Your social media efforts will not be as successful
You'll have a faulty process set up in place of what could be
If you would like your entire marketing strategy, your different departments and social media to align and work successfully together, make sure you invest a portion of your budget invested into social media training from an experienced agency.
Since 2002, Half a Bubble Out has been dedicated to providing marketing, advertising and small business consulting that meet the needs of our clients. We specialize in powerfully telling stories through inbound marketing to grow your business filled with more passion and provision. Based in Chico California, we serve clients throughout Northern California and across the country to New York.