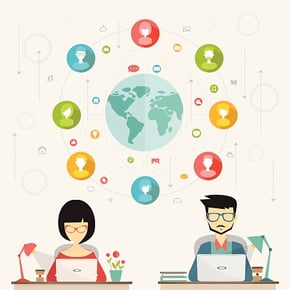 With almost everyone having access to the internet at every waking moment through their smart phones and mobile devices, reviews of businesses through social media are at an all-time high. Reviews can really make or break your business. Online reputation is something social media marketing companies take very seriously and watch closely. If you don't have a company doing this for you, here are some stats about reviews that might blow your mind.
Social Media Review Stats
The following stats are based on a survey done by BrightLocal in which over 2,000 people were polled.
88% have read reviews to determine the quality of a local business
39% read reviews on a regular basis
Only 12% do not read reviews
72% of consumers say that positive reviews make them trust a local business more
88% of consumers say they trust online reviews as much as personal recommendations
Reviews are a powerful tool to promote your business and they can also turn people away. Dealing with bad reviews is critical.
When it comes to bad reviews here are few guidelines to follow:
Before you respond, breathe.
Seeing some of these nasty reviews about your business, employees and service may cause you to get a little heated. How dare that person say your business sucks! If you find yourself getting upset over a review, walk away from the computer, breathe and take a moment to regroup. Just remember everyone has a right to their own opinion and especially in today's world, a right to post a review about it.
Just remember to never be defensive. You can acknowledge their complaint but then turn it around to highlight one of your strengths.
Example:
Customer Katy [Reviewer]: This restaurant sucked. The food was pretty good but the service was terrible. My waiter didn't seem to know much and was slow.
Way to respond: Hi Katy, we are sorry to hear you did not enjoy your dining experience with us. We strive to make our customers happy and take a lot of care in the experience we offer. We will continue to train our staff so they can offer the best customer service possible. We hope to see you back because we value your business.
No matter how bad, always respond.
While it may be tempting to delete, hide a post, or not respond at all, responding to a negative review is usually the best option. When other customers or potential customers read the negative review, your response is a good way to show that:
a.) Your business cares
b.) You handle angry customers appropriately
c.) You're not afraid to accept when you're wrong and offer an apology and a solution
d.) Good customer service
Don't forget to respond to positive reviews too. Those are the people you really want to show extra love to!
Example:
Customer Bob [Reviewer]: Oh man, I just absolutely love this restaurant. The tacos are to die for! This is the best place in town to grab a margarita with friends. I won't go anywhere else! Definitely recommend it!
Way to respond: Hi Bob! Thanks so much for being such a loyal customer. We enjoy hosting you and your friends. We think our margaritas are pretty dang good too, but we may be a bit biased. Cheers!
If it is incredibly obscene, then hide it if possible.
In some cases, depending on what social network the review is on, you may be able to delete or hide it. Usually deleting a review is the last option and can prove to look even worse that the business deleted it, than the comment actually was. However, if it is obscene or is completely damaging and untrue and is ruining your reputation, it's best to do a little bit of recovery and PR work.
If possible, continue the conversation privately.
Sometimes you'll have some people who want to argue back and forth with you. They are out to prove you wrong, are angry, and feel invincible with their keyboard as their weapon. Once you have offered an apology or response you deem appropriate, don't play along with the social fighting game. Offer an email address or number where they can reach you if they'd like to further the conversation.
Take the reviews with a grain of salt.
Most people take the time to post a review when they are upset about something. For some reason, there's a much smaller percentage of people that regularly post reviews because they are satisfied with a service. Posting reviews takes time and when fueled by anger, it can tend to make the process a bit easier when someone is on a mission. The best way to get more positive reviews than negative is to be a caring, helpful, and well-run business with great customer service!
As you can see, your social media and online reputation can have a big impact on your business. It's an important factor to monitor as part of your online strategy. If you don't want to take the time to do this, hire Half a Bubble Out. Social media marketing companies, like us, know how to handle online reviews for your business, so that you don't have to.
Since 2002, Half a Bubble Out has been dedicated to providing marketing, advertising and small business consulting that meet the needs of our clients. We specialize in powerfully telling stories through inbound marketing to grow your business filled with more passion and provision. Based in Chico California, we serve clients throughout Northern California and across the country to New York.