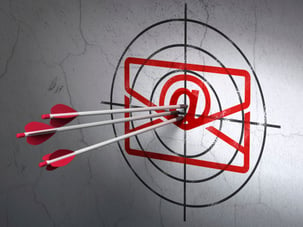 We get it, there is a lot of information on the internet that makes you question whether or not you are running your small business properly. Now you are questioning whether or not you need an email marketing strategy. Keep on reading to get the basics on how businesses can use consumers' inboxes to increase awareness and gain more customers.
Isn't Email Old School?
There are a lot of people in the marketing industry who say that email is dead. But considering that there are over 4.1 billion email accounts we would like to differ. And with smart phones becoming more of a necessity to keep up with our fast-paced lifestyles, checking our work and personal emails has become even easier; 91% of consumers check their emails daily! So why wouldn't your business decide to use an email marketing strategy to increase your reach to potential customers?
Benefits of a Strategy
Having an email marketing strategy has many benefits and can be easy. With marketing automation, sending an email to 500 people can be just as easy as sending an email to one person. Having a successful strategy can have a higher ROI (return on investment) because the costs are relatively low. Utilizing email in your marketing strategy will increase your reach while still taking the opportunity to personalize your messages.
How Do You Start?
One of the most important parts of a successful email marketing strategy is the platform you use to create, send, and monitor your emails. We use and love HubSpot. There are other email platforms like MailChimp and AWeber that can help your small business take your email marketing to the next level. From there, you will begin collecting email addresses from current customers, affiliate marketing partners etc. to grow your email lists. Now you need to write your emails to these specific contacts. It is that easy!
If you are looking for more information on the importance of having an email marketing strategy or even need help implementing one, we can give you the support that you need.
Since 2002, Half a Bubble Out has been dedicated to providing marketing, advertising and small business consulting that meet the needs of our clients. We specialize in powerfully telling stories through inbound marketing to grow your business filled with more passion and provision. Based in Chico California, we serve clients throughout Northern California and across the country to New York.