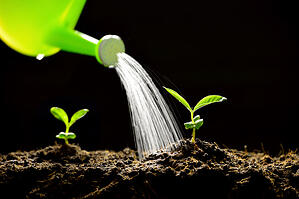 Whatever your business, industry or value proposition is, there is no business without customers and there are no customers without leads.
If you are using email marketing to reach out to leads and gain customers, we have a few ideas on how to grow your email marketing lists so that you can reach more and more leads with your services and products.
First of all: NEVER BUY A LIST!
Oh, it may be tempting to buy that list of 10,000 emails, but you can pretty much guarantee 9,999 of those email recipients aren't interested in getting your email - and then by default, you have become that four letter word an email marketing consultant doesn't like to use…SPAM. There, I said it!
So, if an email marketing consultant tells you to never buy a list, how in the world are you supposed to grow your email marketing list?
Here are 5 tips to grow your email marketing leads list:
1. Inbound Marketing is the answer because organic, natural growth is the best!
Inbound marketing is all about increasing your lead list and converting customers by creating marketing content that people love and actually want. With Inbound Marketing your emails are never called a four letter word! Check out this video from HubSpot's email marketing consultant on how to organically grow your list:
2. Create lots and lots of helpful, useful online content!
As you create content that is addressing the needs and concerns of your buyer persona, you will attract those who are looking for the answers you have. A key to organic growth is creating content that people want and your website will look even better in the eyes of search engines everywhere. As your website traffic increases, and you offer great content, your leads will increase as well, giving your email marketing lists a natural boost.
3. Use online forms to capture email addresses.
Instead of buying or manually collecting email addresses, a very effective way is to 'capture' email addresses through voluntary online form submisisons. The forms you use can also capture additional lead information that is helpful to your marketing and sales teams. This will allow them to personalize the emails and types of contact they will have with the leads. This is a great way to capture information that will allow segmentation of email lists for more personalized approach to email marketing.
4. Use your business social media accounts to promote offers.
Share content and offers on social media that require an email address to gain access. The beauty about promoting offers on your Facebook Timeline, in your Twittter feed, as well as your Pinterest board, is that you can encourage your followers and leads to share them with their friends. Go viral anyone?!!
5. Give new life to an old list.
Email marketing consultants know that lists decay and die out over time, but that doesn't mean they can't be resurrected! One way to recharge an old list is to use an opt-in email marketing campaign. Create a catching and engaging email, send it out to an old list and encourage those who are interested to opt-in through a form. Promise to take all contacts who don't respond off your list. You won't only get some "opt-in-ers" but you will also gain trust in your brand.
So there you have it. Five tips from your email marketing consultant. My charge to you is to try out 1 of these tips and test how it works for you. Then, choose another and test how it works. You might just be surprised at the results!
If you have more questions for an email marketing consultant and how email marketing fits into our Inbound Marketing strategy as well as into a holistic marketing plan for your business, give us call to chat or download our free How-to Guide below!
For more related articles: