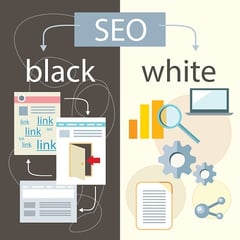 In the business world, the concept of SEO is becoming more and more popular. Search engine optimization is important for the internet presence of businesses. Unfortunately with growing popularity, companies that provide SEO services are creeping into our business lives mostly via our inboxes. But what is so wrong with these services if they guarantee to help your business grow?There are two different types of companies that can help you with your SEO. The first is a legitimate agency or company that can help improve your business's SEO and the second is a SEO service company that uses illegitimate techniques to get your business. I personally work for an agency that provides SEO services to our clients and my inbox is full of spam emails from these companies that are trying to get my business. Take a look at the email below that came straight from my inbox.

My First Thoughts When Reading This Email
It's not personalized. If you don't even know my name why should I trust that you care that I am doing well?
If you were really searching through my website you would know that Half a Bubble Out is a marketing, advertising and consulting agency and we provide our clients with SEO services. Don't you think we would optimize our own website and content? Yea, I thought so.
No business can guarantee rankings on the 1st page of Google. So why do you think that I believe that you have helped over 200 businesses do this?
Did you proofread this email for typos or bad grammar?
Why didn't you identify the name of your company and offer a link to your website? This shows me that you are not a legitimate business and will just make my life more difficult if I use your services.
It is so easy to get caught up in the needs of running a successful business. If there is an easy solution to a need, why not take it? These types of SEO services (like the one that sent this email to me), are shady and can only do detrimental damage to your business in the online world. Black hat techniques can have your business banned from showing up in the different search engines. That's right, when people go to search your company name, your business website won't show up!
Finding a business or agency that will follow the proper SEO rules and etiquette is the best way to strengthen your online presence. If you need help with SEO and would like to be consulted, contact us today.
Since 2002, Half a Bubble Out has been dedicated to providing marketing, advertising and small business consulting that meet the needs of our clients. We specialize in powerfully telling stories through inbound marketing to grow your business filled with more passion and provision. Based in Chico California, we serve clients throughout Northern California and across the country to New York.