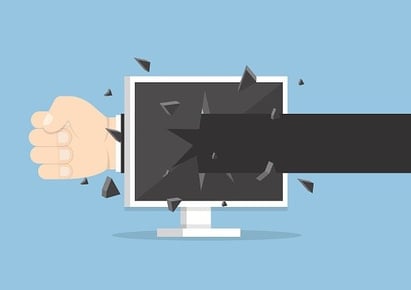 If you climbed on the internet this morning (of course you did!) you may have noticed your favorite sites weren't accessible or working properly. Popular sites like Twitter, Netflix and PayPal, among others, were affected by a wide-scale attack on a major hosting server.
There have been multiple reports that the outages and problems have been fixed, but a quick trip to some of the affected sites reveal that many websites are still facing issues.
We found a great article from Gizmodo on the subject. They have been keeping track of the updates and have a very good pulse on the situation. Here's a bit of their coverage from this morning:
Written By: William Turton From Gizmodo
"Twitter, Spotify and Reddit, and a huge swath of other websites were down or screwed up this morning. This was happening as hackers unleashed a large distributed denial of service (DDoS) attack on the servers of Dyn, a major DNS host. It's probably safe to assume that the two situations are related.
Update 12:28 PM EST: Dyn says it is investigating yet another attack, causing the same massive outages experienced this morning. Based on emails from Gizmodo readers, this new wave of attacks seems to be affecting the West Coast of the United States and Europe. It's so far unclear how the two attacks are related, but the outages are very similar."
[To read to full article -- Click Here]
When will everything be back to normal? It seems that no one can say.
So, what should you do now that you can't tweet your beloved followers? If you can't think of an alternative time filler or entertainment source than social media, you need more help than we can provide.
But if you use Twitter for internet marketing like we do, you'll be pleased to know that Facebook has not been affected. We recommend spending some extra time working on Facebook content while the server hack is being resolved.
Since 2002, Half a Bubble Out has been dedicated to providing marketing, advertising and small business consulting that meet the needs of our clients. We specialize in powerfully telling stories through Inbound Marketing to grow your business filled with more passion and provision. Based in Chico California, we serve clients throughout Northern California and across the country to New York.