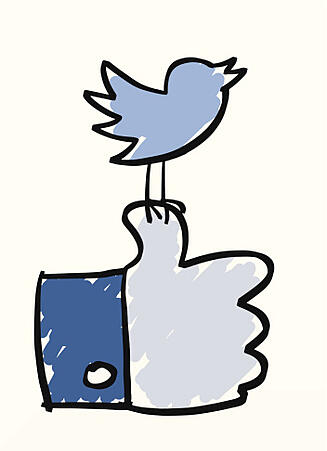 As a small business owner social media can be a scary thing. There's so many platforms to be on; Twitter, Facebook, Pinterest, Google+, Instagram, the list goes on. You do an OK job with posting every couple of days but you are just not seeing much engagement or turnout like other brands do.
What are you doing wrong?
Well, one of the things could be that you are not posting frequently enough as well as taking advantage of the "right" times to post.
With an inbound marketing strategy you can see when people engage with your social media posts the most and what times are the best for you to post. What if it's at 10 p.m. on a Saturday night? That's your movie night with your wife and you really don't want to be interrupted.
Well, guess what? YOU DON'T HAVE TO.
That's right. When you see social media posts from other businesses on the weekend, they are most likely not being created at that very moment—they are automated.
Anymore, to compete in the social media world you need to be posting daily, and yes, this means on the weekends as well. You already work all week and you don't want to think about posting to Twitter or Facebook when you should be spending quality time with your family. That's why an agency that provides inbound marketing for small businesses is your fix.
Check out this study that was done which found that most businesses aren't utilizing social media properly on the weekends even though most customers are using the platforms during that time.
Posted by NewsCred
The research shows that the wider public are more active on social media during the weekends, when businesses are at their least active. Much of this could be due to people "catching up" – they were busy themselves working during the week and can only do their social media activity when they have time on a Saturday or Sunday. However, this somewhat misses the point about "social" media.
How can a business be "social" with its customers when it is not present?
Customers expect you to be able to respond to Tweets, to thank them for Retweets, for instance. Or they expect you to be able to answer questions raised on your Facebook page. Waiting until Monday to deal with these issues might seem OK to a business, but the problem is that by Monday, those customers have largely disappeared from your social activity, only to resurface the next weekend.
A study of the Fortune 500 firms a few years ago found that those which engaged "real-time" had an increase in company value over a year, but companies that failed to engage in real-time actually lost value. Firms that were engaging "real-time" had an average 3% increase in stock value over the 12 months of the study; companies that did not engage with the market in "real-time" had an average share price loss of 2%.
Yet in spite of this data, most businesses still stick to the traditional Monday to Friday, 9 to 5.
If you want to start taking advantage of the success your small business can see using inbound marketing and certain social media strategies, contact us today!
Related Posts:
Social Media Stats Every Successful Small Business Should Know
7 Twitter Mistakes That Are Hurting Your Small Business
If you'd like to learn more about how an inbound marketing strategy works, download the free offer below!