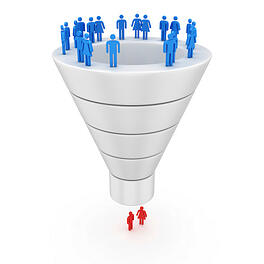 Are you in the process of roping in those business opportunity leads? Are you looking for a system that will give your business a strategy that is supported by data that proves it will increase your leads? Creating a business that is full of passion and provision while capturing leads can be difficult. But I have good news for you, inbound marketing is exactly what you are looking for.
What is Inbound Marketing?
Inbound marketing is a type of marketing that isn't intrusive and is geared around actually helping people solve their problems. I know what you might be thinking. How can this be successful if we aren't constantly pushing our product onto people 24/7? Lucky for you, you don't need to be cold calling potential customers during dinner time in order for your business to be successful. We do this by focusing on creating an amazing website and social media presence to offer content that your potential customers will want to engage with. Which leads them to your products or services to solve their problem. But how do we capture their information to become a lead?

Above is a picture of the inbound methodology where you can see the natural progression of your customers. Your business attracts strangers, turns them into visitors, convert them into leads, then closes them as customers and hopefully they become promoters of your product and want to return. When discussing business opportunity leads while using inbound marketing, we will focus on the tools that are used to convert your visitors into leads. Let's learn how to secure those business opportunity leads.
Calls-to-action
These clickable buttons are designed to intrigue your potential customers to click and download the content that you are offering. This can be a contact us form, an e-book, or other pieces of content that your business is using to educate your potential customer. These CTA's (calls-to-action) should be tastefully flashy and intriguing to ensure that they click the button to download your offered content.
Landing Pages
Once the visitor clicks the CTA on your website, they are then directed to a landing page. This page gives them more information about the content that they are about to download. If they are downloading an e-book on "Different Ways That the Wonder Mop Can Change Your Life," this is where you are able to give the synopsis of the e-book and then provide four or five bullet points that give the direct benefits of the offer. The landing page is where you try to convince the visitor to want to download your content.
Forms
If they like what they see and want to download your e-book, your visitor will fill out a form that is on the landing page. These forms give your visitors prompts to fill out that can include everything from their names to their occupations. You decide how much information you want your visitor to give before they download the offer.
Once you capture their information through the form, tada! You now have a lead. By using their contact information (email) you can start an email marketing campaign that will move them to the next stage of the inbound marketing methodology, a customer.
How Do You Know This Will Work?
HubSpot (inbound marketing software company) is constantly retrieving data to help prove that inbound marketing is helping businesses grow. Here are a few stats for you to consider:
45% of respondents attribute inbound marketing as their primary source of leads (vs. outbound)
Leads are less expensive using inbound marketing rather than outbound
Businesses with 30 or more landing pages generate 7 times more leads than those with fewer than 10
Inbound marketing is statically proving to outgrow outbound marketing when creating leads in a business. If you need help understanding business opportunity leads and how to convert them into customers we can help you!
Since 2002, Half a Bubble Out has been dedicated to providing marketing, advertising and small business consulting that meet the needs of our clients. We specialize in powerfully telling stories through inbound marketing to grow your business filled with more passion and provision. Based in Chico California, we serve clients throughout Northern California and across the country to New York.