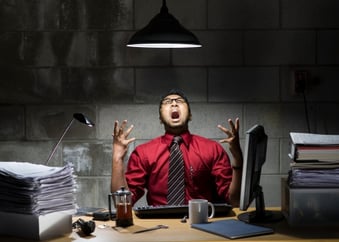 Typically a nightmare is something that you wake up from, maybe involving dinosaurs chasing you or falling from a tall building. In our industry, those nightmares are a bit different and often happen between 8 a.m. and 5 p.m. involving websites crashing and spammy SEO tactics. Yet, we still LOVE our job despite these little hiccups.
Keep reading to get a little insight on what type of nightmares an inbound marketing consultant has on a day to day basis.
Bad Link Building/Link Farms
It's such a bummer when we find that our clients' previous "marketing agency" used shady SEO tactics to try to get them on page 1 of Google. Bad link building strategies and link farming are all too familiar in our industry and can seem appealing when being proposed. While they may work in the short term, the business's website is eventually punished by Google, and your domain's credibility and search rankings are destroyed.
Duplicate Social Media Accounts
You wouldn't believe how much having duplicate social media accounts can negatively affect your business. What you also may not believe until you see it is how many hairs our social media manager has pulled out of her head from all the duplicate social accounts that she has found. Seriously, she's actually bald now. Hehe, just kidding. Plus, most of the time these duplicate social accounts/listings aren't an easy fix.
Whenever you create a social account for your business make sure you write down the login information. It's crucial to be able to have access to the accounts that have your business's name on them!
Sporadic Blog Posts
If you're going to blog, and even more so, want to be successful, you need to be consistent. Blogging works the best when you have a strategy and stick to it. Blogging just when you feel like it or every other month isn't going to be very productive. Sure, it's better than nothing, but if you want to do it right you'll blog at least every week if not three times a week.
Website crashing
Oh no, alert the media, your website is down! This is one of those moments when everyone in the office freaks out a little and hopes it's an easy fix or that the server is just being silly. When it ends up being something else, that's when we just leave it to the professionals and call in the tech guys.
Bad Online Reviews
It's always a little troubling when a bad online review pops up. The alarm goes off and damage control is called in immediately. While most times, it's an easy fix, and really only requires a good response, some online reviews can be pretty damaging, which is why we act on them immediately. Dun, dun, dun, dun, inbound marketing consultant to the rescue!
Google Algorithm Changes
While we usually have been alerted ahead of time that Google is going to release a new algorithm change, many of those times we didn't know exactly what that would mean for businesses. It's always a little scary when Google decides to change the makeup of its search algorithm. However, sometimes it ends up benefiting you if you have moral best practices and aren't trying to rig the system - that's when we're happy!
False Promises
It bugs us when we see other marketing agencies or consultants make false promises to business owners. They make claims like saying they can get you 1 million Twitter followers in a week or will get your website on page 1 of Google. We get these spammy emails every single day. Please don't fall for a marketing ploy like this.
While we call these "nightmares" in our industry, they are merely little bumps in the road in the daily work load of an inbound marketing consultant. We love our job and enjoy overcoming the bumps so that YOU, our clients, don't have to deal with them. If you'd like an inbound marketing consultant to take over these nightmares for you so that you don't have to deal with them, we'd be happy to!
Since 2002, Half a Bubble Out has been dedicated to providing marketing, advertising and small business consulting that meet the needs of our clients. We specialize in powerfully telling stories through Inbound Marketing to grow your business filled with more passion and provision. Based in Chico California, we serve clients throughout Northern California and across the country to New York.