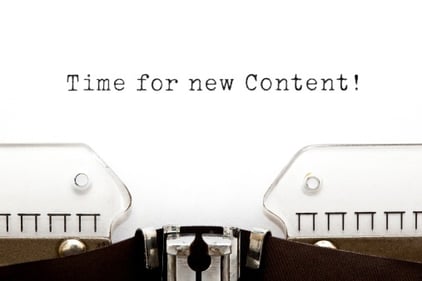 Content marketing is a great way to put your business on the map, digitally speaking. Creating content online helps you to show up more in search, increase your ranking with Google, be helpful to your customers, build relationships and show that you are knowledgeable and engaged in your industry.
Where do you even start, though? You know that you need to produce a content marketing plan but how do you make that happen? Don't worry, implementing something is half the battle. Here's a step by step process laid out for you to help make it easier. Now all you have to do is follow these tips and actually, physically DO IT. Or…you could always hire an experienced agency. But, onto the do-it-yourself process.
1. Brainstorming
The brainstorming process is essential and is an important step in the right direction. Content creation takes creativity, so what's better than a brainstorming session to help ignite those ideas? Plan a meeting with the employees that will be helping to create the content or you think have ideas to add to the content creation process and start sharing your ideas.
Tip: Just because an employee isn't directly involved in the content creation process doesn't mean they won't be helpful. They can actually add value and bring up ideas the creation team would have never thought of.
For example, if you have a service based business, bring in one of the technicians to get some insight on the questions and problems your customers are really having. They often know how people talk about their problems, the laymen's terms they use, and the way they describe what they need.
2. Strategy
This gets down to the real nitty-gritty of what you can and can't do when it comes to your content marketing plan. There are some things that need to be thought out and questioned:
What kind of content do you want to produce?
Will you spend extra money doing so? What's your budget?
What is the overall focus of the content?
What keywords will be used?
Who are your target market and buyer persona?
Where will this content go? Used for a website? Advertising content? Social?
How will you market the content that you have produced?
What is the timeline for this plan?
Who is in charge of implementing and seeing that it gets done?
What are your goals?
How will you measure success?
3. Create a Calendar & Plan in Advance
An editorial content marketing plan calendar will be your saving grace. You'll want to plan your content calendar far in advance, at least 3 months at a time.
Depending on how many times you are going to blog a month and whatever other content you will be producing, you'll want to assign each task to a content creator with a title, concept, keyword, due date and posting date. This is just for a blogging example however, the same strategy will be similar with offers (eBooks, white papers, checklists, infographics), social and website content. Consider including in your plan:
Important events
Note seasons/holidays
Any changes in your industry/business that are scheduled
Scheduled sales
Product launch dates
Major conferences
4. Creation [the fun step!]
This is the part where your content creators actually get to work and make the content ideas come to life! This part is pretty self-explanatory but just remind your content creators to be original, be thorough, use their keyword, be good researchers and source their findings.
5. Analyze & Decide What's Working
Throughout your content marketing plan and at the end of the first 3-month stint it's very important to analyze your work. Have your efforts changed anything in your business? Are you seeing an increase in traffic to your website or maybe more customers and an increase in profits overall? These types of data points are important to take into account so that you can evaluate if your time creating content is producing results that make sense.
6. Ask For Help When Needed
It's important to know when you need help either planning or implementing your plan. Maybe you're successful for a few months but your employees start getting burnt out on all of the content they're having to produce, on top of their daily job duties that they already have. That's where hiring an agency comes in handy. They have professional content marketers that love writing and can focus all of their efforts on creating top quality content for clients all day long.
If you don't have time to create a content marketing plan, let alone write all the content, Half a Bubble Out can help!
Since 2002, Half a Bubble Out has been dedicated to providing marketing, advertising, and small business consulting that meet the needs of our clients. We specialize in powerfully telling stories through inbound marketing to grow your business filled with more passion and provision. Based in Chico California, we serve clients throughout Northern California and across the country to New York.