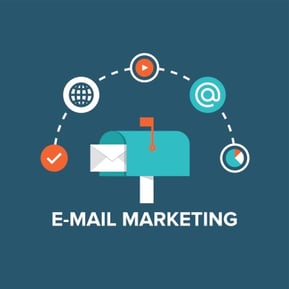 Looking for some expert advice when it comes to email marketing for your business?
Well, you're in luck! I've interviewed our on-site email marketing consultant who has been knee deep in email marketing work for the past three years. She lives and breathes email marketing and can sure teach us all a thing or two. Soak up this knowledge folks, because it's hard to come by, especially when it's free!
Below is an interview between myself and Vicky, Half a Bubble Out's email marketing consultant:
What is the biggest piece of advice you would give to a small business that is using email marketing?
Vicky: "I think you need to make sure your list is a list of people who wants to hear from you and wants contact with you and is engaged with your business. You don't want to have a list of people who are not interested in what you have to offer."
In your experience, what is the best way to establish an email list?
Vicky: "First have a list of your current customers and their email addresses and you can continue to market to them and keep them engaged. Depending on your industry or service, reengaging with previous customers will help to bring them back. After that, having some type of opt in mechanism, whether it's a form on your website or signing up for a free trial, and allowing them the option to give you their email address is important."
What's the worst thing, in your opinion, that people do when it comes to email marketing?
Vicky: "I think the thing that strikes me the most, which is obvious to recipients, but not the email writer, is when they jump into a topic that the recipient doesn't understand, such as industry specific words or jargon. The recipient then is confused and doesn't understand. It's something that is so easy to fix by just talking and speaking to your recipients instead of speaking about what you know about. Try to avoid using terms that your recipient doesn't understand or is confused by. This can cause your email to get deleted easily or come across as spammy."
What is the secret to getting people to open the emails and then complete the action?
Vicky: "Well first, when it comes to someone opening the email, your subject line is the most important thing. Making it engaging and fun and interesting is key. And then, making an action out of the email, first you need to offer something. I've seen a lot of emails where they don't offer something to do, it's just information. Make sure you add a call to action because that's how they will reengage with your company and visit your website again."
"The biggest success I've seen with email is offering something that's valuable and that they are interested in. This is where segmenting your email list is important. When you can target a certain audience or persona it increases the likelihood of your email campaign being successful. If it's not relevant to that person, they won't click on it no matter how engaging your email may be."
What's the biggest lesson you have learned over your course of being an email marketing consultant?
Vicky: "Test your emails. Always send a test out before you send it so that you can see how it's being received. Always have someone else look at it for errors. Make sure your links work, nothing is cut off, images show through, CTA's work, etc."
"With that, once you send out a batch of emails don't be afraid to test them. If it doesn't do too well, switch it up and test different formats in your email, different times, etc. Email marketing doesn't cost you a lot of money to test. This is the beauty of email marketing."
Well there you have it folks! Wasn't that a lot of helpful, experienced advice that only a true email marketing consultant can give you? If you're confused on some things, or want help implementing a strategy, we're here to help!
Since 2002, Half a Bubble Out has been dedicated to providing marketing, advertising and small business consulting that meet the needs of our clients. We specialize in powerfully telling stories through inbound marketing to grow your business filled with more passion and provision. Based in Chico California, we serve clients throughout Northern California and across the country to New York.