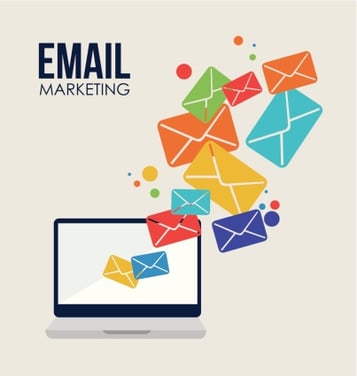 Did you know that 122,500,453,020 emails are sent every hour? (MarketingProfs 2014). This number alone should tell you that email is not dead; it's in fact very much alive. There are actual people or an email marketing agency behind these emails – whether it's your competitor creating and sending them or your potential and current customers opening and reading them. With so much content flooding inboxes these days you need all the help you can get in order for the emails from your small business to get noticed. Here are a few tips you can start doing today.
The subject line is really important – believe it or not, the majority of your time writing the email should be spent on the subject line because this is the first thing people will see and read. It should be catchy and to the point.
The time of day you hit send is probably important too – we say "probably" because ideal sending times vary by industry, day of the week, and your audience. For example, if you own a bar, you wouldn't want to send out the day's happy hour specials at 4 p.m. for obvious reasons. Start finding when the best time is to send your email marketing campaign here.
The email should come from an actual person – when there's a real name in the "From" field, it's just more personal than getting something from "no reply." People don't want to open emails from a robot.
Segment lists – if you have an adequate subscriber list, make sure your email marketing agency segments it so that you're sending the right stuff to the right people. For example, send ads for doggie treats to pet owners; send ads for diapers to new parents. Some companies are really great at this!
Send something people actually want – don't just send an email to send one. Make sure you are sending relevant content or information to your recipients. If you're announcing a weekend sale, send them a coupon with the announcement.
Take ownership when needed – if you or email marketing agency makes a mistake, own it. If you sent the wrong information or an expired coupon, send a follow up, apologize, and give them something better to make up for it.
People won't hesitate to delete you – you're just one email in a sea of millions, and unless you make it relevant, people will quickly hit delete and move onto the next email.
Encourage people to unsubscribe – this may feel counterintuitive, but if the emails your small business is sending are just clutter and junk in someone's inbox, break up with them and tell them to unsubscribe if it's not helpful or relevant to them.
Be mobile friendly – people use their smartphones for just about everything these days, especially checking, reading, forwarding, responding to or deleting emails. If your email isn't easy to read on a mobile device, it won't get read at all.
Keep it short and sweet – remember, people are sifting through gazillions of emails. They don't have time to sit and read a novel, nor do they want to.
Now that you're armed with 10 quick tips, open an email and compose away. Bonus tip: Gmail may have just introduced how to unsend your email, but always re-read your email before clicking send!
If you're ready to start putting your marketing into action, make the process easier and faster by utilizing the services of an email marketing agency. Contact us at Half a Bubble Out today to see if we're a good fit.
Since 2002, Half a Bubble Out has been dedicated to providing marketing, advertising and small business consulting that meet the needs of our clients. We specialize in powerfully telling stories through Inbound Marketing to grow your business filled with more passion and provision. Based in Chico California, we serve clients throughout Northern California and across the country to New York.