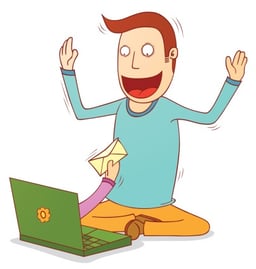 Remember the good 'ole days when companies used to only send snail mail to get your attention? Catalogs, coupons, and company newsletters galore would fill your mailbox, along with the daily bills, mountains of junk mail, and maybe a personal card or letter if you were special.
I love more than ever to get a piece of actual mail with my name on it, the kind made out of trees. Even when it's a solicitation letter with my name spelled correctly and printed in a swirly font on the front, I get excited for a second. But when it's actually handwritten, has an address I recognize, and something sparkly and sweet inside, I get outright giddy and – gasp! – open it. Someone actually, physically sent something to moi.
As an email marketing consultant, and also someone who may need an intervention for subscribing to too many email lists, I'm bombarded by hordes of daily emails in my inbox instead of envelopes in my mailbox. There's no way I can read or open them all. I feel bad for unsubscribing – but not for deleting.
So, how do I and a multitude of others decide which emails in the inbox to open and which to delete?
I'm going to do an experiment right now to find out. Currently, my personal inbox has 652 unopened emails in it. Don't judge – you know yours does too!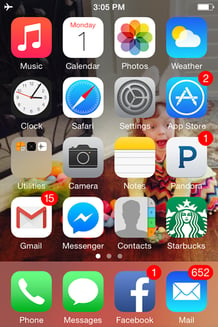 I'm going to open my inbox, pick an email that catches my attention, and use it to give you some email marketing tips to help your company boost its email open rate.
Here's the email I chose from the list on page 1 in my inbox:
1. Create a Catchy title
As I scrolled through my inbox, I saw my name and a question in the subject line. Plus, I like surprises! The title caught my eye. An interesting title can make or break your email. It can be the difference between someone clicking to open, passing over it altogether, or simply deleting it because there's another email right above or below it with a better title. (Sorry The Bump Parenting Newsletter – Myself and my daughter are sleeping just fine).
2. Use Personalization
The sender of your email can either come from the company name or a person. An email marketing consultant will generally say the email should come from a person at your company because it's more personable. It depends on the company and your preference. In our example, the sender is The Children's Place, which is fine by me because I know I shop there and signed up for the email list.
The Children's Place chose to use personalization by putting my name in the subject field. Awesome, I feel loved and cared for. As long as the sender isn't from "noreply@yourcompany.com" or "info @somewhereusa.com" or something similar that just screams automation and impersonalization, you're in good shape.
3. Timing is everything

As you can see, I can get free shipping, and I shouldn't wait until tomorrow – I should SHOP NOW! This gives me a sense of urgency that if I don't open up this email to see what's inside, I'm going to miss out on something incredible, maybe even once in a lifetime! Plus, there's a surprise inside, and surprises don't last forever! Don't you want to know what the surprise is?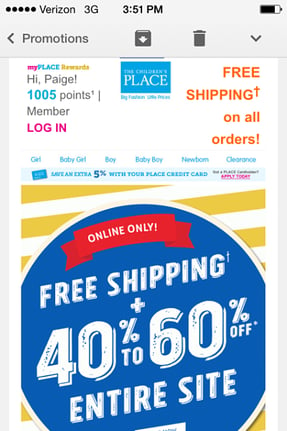 Wow! Online Only sale! You should also know that I recently shopped at The Children's Place, so it's no accident they are sending me this amazing deal. As an email marketing consultant, I know I'm just another name on their skillfully segmented email list, but I don't feel like I am. I feel like they are sending me exactly what I want, even though I don't know that I want it…which is why I opened the email and suddenly feel the urge to shop.
A catchy headline, personalization, and the right content at the right time are 3 tips from an email marketing consultant that can help your emails get opened. But that's just the beginning. Did you know that for every $1 spent, $44.25 is the average return on email marketing investment? With a stat like that, you should consider investing in an email marketing strategy for your business – and we can help!
Since 2002, Half a Bubble Out has been dedicated to providing marketing, advertising and small business consulting that meet the needs of our clients. We specialize in powerfully telling stories through Inbound Marketing to grow your business filled with more passion and provision. Based in Chico California, we serve clients throughout Northern California and across the country to New York.