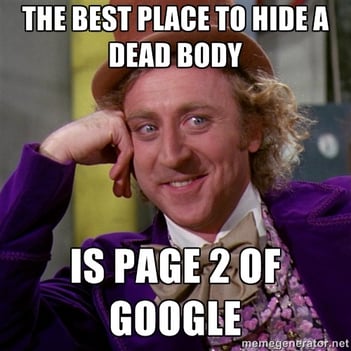 Search Engine Optimization is basically posturing your brand online so that your business is in front of the people who are already looking for the solutions you have to offer. Its sole purpose is to give your business the best chance to be found by potential customers online.
Need a reason for why you should be using SEO services for your business? A recent HubSpot blog reminded us that someone once said "The best place to hide a dead body is page 2 of Google" (and no one can figure out who to give credit to).
In our office we all had a laugh, because it is funny....but mostly because it is so true. According to a 2014 study, 71% of searches result in a click on page 1 of the search results. If your business doesn't show up in the first 10 results, it is buried on page 2 and 3 which only sees 5.5% of the clicks. When your business shows up on page 4 or further down in the results, you might as well be lost in the Sahara desert.
But what if you WANT to be found by potential customers? Take the case of "New Town Tire Shop" (fictional vignette):
Sally Mae Reynolds needs new tires on her car. She is new to town and isn't sure where to go. So she goes to her computer and uses a popular search engine to search for "Tire shop in New Town, USA." Well, if you are a tire shop owner in New Town, wouldn't you love for your business website to be one of the first in the search results that Sally Mae Reynolds finds? Yes! This is the best type of lead a business can get. One who knows they have a need and is searching for your business and the products or services you offer. Eureka!
This is the power of Search Engine Optimization. Customer opportunities are the reason, as a business owner, you need to consider if you can afford SEO. The question really should be, "Can you afford not to have SEO services for your business website?"
So that your website isn't buried beneath the competition, what factors do you consider when deciding if you can afford SEO services?
First of all get an idea of what types of services are out there, what to avoid and what to expect from reputable SEO services companies. Here are 3 reasons to NOT choose an SEO services company:
They are too affordable (AKA: only $99/month!). Run. If something is so affordable that anyone can buy it, the service will not be worth anything because everyone would be doing that to get high rankings on search engines. Unfortunately services that are too affordable could even do your business more harm than good.

They promise you #1 rankings on Google. No one can promise you anything on Google.

They buy "special" tools or backlinks. Search engines don't like that and you will be penalized.
When deciding what is "affordable SEO services" there are a few different perspectives businesses have:
Are you looking for "cheap" services because you have no budget?

Are you looking for quality services at a reasonable price?

Are you looking for awesome results that bring ROI even if the investment is substantial?
This paragraph from Alistair Kavalt at Sycosure sums up what you need to consider very nicely:
This is how most people choose what they think is the best SEO company when they start out. Many businesses may look for the cheapest options and then assume that the cheapest SEO company is the best SEO company, only to be left sorely disappointed with the quality of service that they had received. What they should know is that ordering from SEO companies that charges under $750 a month is really scraping the bottom of the barrel. Not only is the SEO ineffective, but you may find yourself spending more money later on to hire someone to clean up the mistakes of the cheap SEO company. In addition to that, low-quality SEO services can be detrimental to your website and to your entire business! Sure, the SEO offered by these companies may seem cheap now, but they won't seem so cheap when you find yourself ordering from 100 of these companies and you're left with a penalized website. This is why it is important that when you are looking for the best SEO company, you will want to choose one that works not only with your website, but one that works with you.
Consider what you are currently spending on marketing and advertising. Can you afford to add to this budget if it will bring you more customers and increase your ROI? And remember: Keep in mind the big picture and the long term goals. If you want your business to grow and be sustainable, invest in marketing services that will bring longevity to your brand not just a quick fix.
If you are not sure where to start and you need a marketing assessment for your business, contact us at Half a Bubble Out.
Since 2002, Half a Bubble Out has been dedicated to providing marketing, advertising and small business consulting that meet the needs of our clients. We specialize in powerfully telling stories through Inbound Marketing to grow your business filled with more passion and provision. Based in Chico California, we serve clients throughout Northern California and across the country to New York.