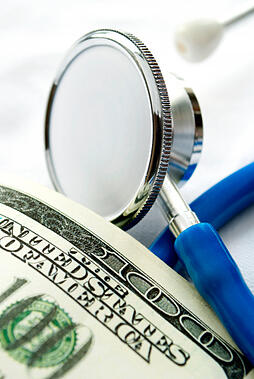 Before you do any type of marketing or advertising, you need to know who your potential customers are and no, the answer isn't someone with a pulse and a pocketbook. Ok, well maybe that's a good place to start, but to really draw in your ideal customer, you need to speak right to them, speak their language and speak to their needs.
Doing your research first, before you add keywords to a website is vital!
First, take the time to research who your customers are and develop out a persona: a "made-up fictional character" who has the same interests, characteristics, needs and wants as the population you are marketing to (understand that this persona may shift and change as you discover more about your business and about your target customers). You may even need to create 4 different personas based on differences in your target population which may then affect how you add keywords to your website and which keywords you choose.
Take the time to find specific information about your customers; find a little about their needs, their questions, even their language and how they "ask or search" for information online. Listen to people's vocabulary and their questions. The keywords you choose to use on your website can be found if you are looking and listening.
The second step is to research and brainstorm keyword vocabulary related to your business in different ways.
Your services- What types of services do you offer, what do you call them vs. what do your customers refer to them as? Vocabulary is key…hence the name keywords!
Your industry- Industries use different terms to label and describe themselves. Businesses use acronyms and industry specific vocabulary all the time. It may be appropriate to add them as keywords on your website, or it may be wise to describe them for customers who are not up on the lingo you use.
Your customer- Knowing your customer persona falls into this category, but you may also think about the vocabulary they use when talking about themselves and fellow members of their group. How will this help you add keywords to your website? It will help your customers relate to you.
Your products- What do you sell? These can be high to mid level terms that describe what you sell. If you do your research in this area, these terms can be very useful in reaching new prospects according to the terms used to describe your product.
Example: Someone in the USA is searching for restaurants who serve "soda." Well, if you live in California or New England, you know what I am referring to. If you live in the Mid West, you may catch yourself thinking," Do you mean pop?" and if you live in Texas, you are saying, "It's called coke around here."
If you are a restaurant, or a distributor of soft drinks, cola, pop, soda, or soda pop products, then you may want to pay attention to this map: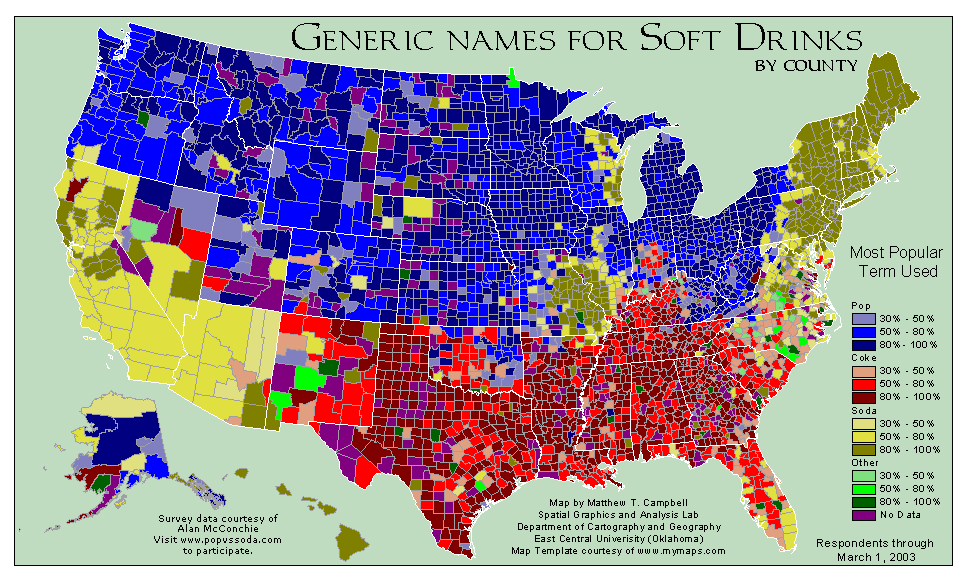 (If you want to put in your 2 cents, go to popvssoda.com and enter the survey)
Your prospects may be searching for a product you provide, but if you are not using the same vocabulary, they will never find your website-and isn't that the point?! That's why adding relevant product keywords to your website is important.
Your Location- Location specific Geo keywords can include things like State/Province, Region, City, Neighborhood, Street, ZIP code. These can be very important to your small business and are a definite must to add to your website!
Related industries- Businesses don't stand alone. You have related industries that you partner with, depend on or connect with in some way. This is especially true if you are a B2B, but it also relates to you as a B2C and who your customers do business with.
Now that you know your customer persona and have a list of brainstormed categories with specific words, how do you choose the specific keywords to use? Well, you probably need to use a keyword tool such as Google Keyword tool, Raventools, or HubSpot. These are just a few of the great tools out there for small businesses to use.
When you know your customer persona and can use keywords that are specific to their needs, everything you do on your website should relate back to your persona. The more specific you can be, the more that person feels like you are speaking directly to them and their needs. And that equals SUCCESS!
Plan your website so it speaks to your visitors, not to search engines. Focus on what your customers are looking for, address their needs, and demonstrate who you are as a business. Along with using keywords that fit, this gives visitors the overall experience they are looking for and the search engine will love you too! Why? Because you are providing real relevant content to meet real relevant needs. SUCCESS x2!!
After you have chosen your keywords, your next steps are to structure them on your website so that the page content is easy to understand and easy for search engines to crawl. For more specific information placement and position, check out 5 Things You Have to Know on How to Add Keywords to a Website.
Sometimes we get ahead of ourselves and add keywords to our website without doing the research. If you have already done this, don't worry, it's not too late. Keywords aren't written in stone. If you are just starting out, when you think about how to add keywords to a website, remember: Do your research!
Other Related Articles:
Internet Marketing Consultant Advice: Keywords | Block 3 of 11 to Get More Clients