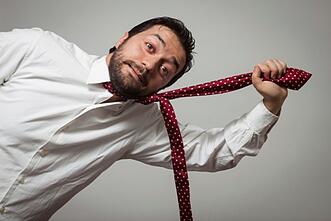 Page one of Google in a week! 1,000 new visitors to your site tomorrow! These are promises that some companies make about their SEO services. When you are asking about ways to increase your website presence you will hear the term SEO over and over again. SEO means Search Engine Optimization and it is big business out there. If you're a big business then you have "people" to deal with this for you, but if you are not and you are looking for SEO services for small business, then you need some "people" of your own or you might feel pulled in a hundred different directions. What do you do as a small business to grow your online presence amidst a world of internet marketing options?
If you have a website, you are probably receiving an average of 3-5 emails or inquiries a week from companies via your website contact form that are pushing their SEO services for small business. As a company, we provide SEO services for small business, but I still get 3-5 emails a week telling me I could be doing something different or cheaper or faster. Promises to get me on page one of Google in no time at all. My clients get the same promises from others trying to court them away from whoever is helping them, which turns out to be me!
So, what do you do about the challenge of needing SEO services for your small business? We believe that the best thing to do is first of all be educated about the ever changing world of internet marketing. There are multiple pieces to SEO that we will review over time in our blog, but one of the terms we want to make sure you understand is "keyword."
SEO Services for Small Businesses – understanding keywords
Please understand that the term "keyword" is a bit misleading, because while it can mean a single word, it also refers to whatever string of words you type into a search engine to find information. For example, my daughter attended her senior prom this weekend. If I needed to find out where to order flowers for her beau, I might type in "Boutonniere" into Google, but who on this earth can actually spell that word? I'm a great speller and I had to look it up….so odds are I might type something like "flowers for a dance" or "flowers for a man for a dance" or "local florists" or something like that, in order to find the best option for that single rose to be pinned on a tuxedo.
The Expert Dilemma
The biggest problem we face as experts in our own field is that we think we know how people are searching, so we want to rank for the terms that we think are important. In my florist example above, you might think that you should be ranking for boutonniere and work hard to do so, but if nobody is looking for boutonniere then it won't help you much. Better to focus on something that people are searching for. There are keyword tools out there, some free, some that have a monthly fee, that will allow you to look up some keywords that you think people might be using and see if they are really worth going after.
An Art and a Science
Simple, right? Well maybe, except that you also have to see what the competition is for a keyword to have clear expectations on how long it will take to rank for that term. This is what we call the "difficulty" and if a ton of people are trying to rank for a term, then the competition might be too high for you to rank anytime soon. What you should do is try to rank for something with decent search volume but not too much competition. You have to think a bit "outside the box" if you are going to get anywhere. Understanding how people search is both an art and a science. Knowing how people think and process information helps as we are working out keyword terms.
Search Engine Results Page Frustration
When you are working to rank for a term and you keep visiting Google to check if you are on page one, you might find yourself frustrated. Maybe you have already discovered that if you type in a keyword or a keyword phrase and hit enter over and over again the results on page one will change in front of your eyes. Google gives what is referred to as SERP's, which stands for "Search Engine Results Page" to any query typed into it. The same is true in Bing or Yahoo or any other search engine. The goal of the search engine is to give you relevant responses to the question or query that you type in, but that data seems to change all the time.
An example: Here at Half a Bubble Out we have been working on getting ranked for the term "SEO services for small business" which is the topic of this blog. For fun I did a Google search on that term, and lo and behold on page one we came up twice…in positions 6 and 7. One is my personal Google+ page where I repost all our blogs which points to a blog one of my coworkers wrote, and the second is our blog address of blog.halfabubbleout.com which points to another blog from a coworker. I'm a little bitter that none of my blogs are showing yet, but I'll adjust. At least my face shows up!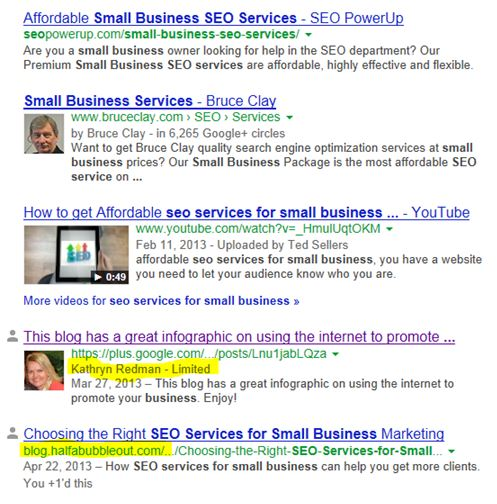 I show you that because if I search in www.SEOCentro.com, a free service to check out where you rank, blog.halfabubleout.com shows ranking at 30 for "seo services for small business" but as shown above I found it today on page one. Another computer showed it in position 9 and 10, but still a lot better than 30! What is the point? Well, the data changes moment by moment and you can drive yourself crazy wondering if you are on page one or page two of Google searches. SEO ranking tools (paid or unpaid) will tell you an average of where you rank based on the last time they pulled data from Google, either weekly or monthly depending on the service you are using, so the results aren't always what they seem.
The bottom line – what really matters
Whether you are using a company to provide SEO Services for small business, or are working on doing things yourself, the real question is how many people are visiting your site. Don't drive yourself crazy with rankings. They matter, but traffic to your site matters more. If you are doing the work and your traffic is growing month over month, then that matters a lot more than if you show up on page one all the time. Make sure you install Google analytics for free in the code of your site and you will be able to track the number of visitors and where they are coming from. That alone will help you know where to invest and where to ease off.
Read our related articles:
Choosing the Right SEO Services for Small Business Marketing
SEO Services for Small Business: 6 Features of a Good Software