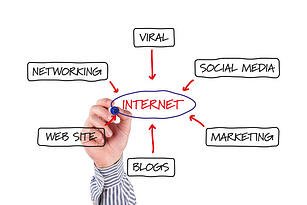 In the wonderful age of technology your customers have access to the internet in the palm of their hands. This means that your traditional marketing strategy isn't the only top dog any more. Internet marketing, also known as online marketing or e-marketing, is becoming more popular in the world of marketing. But why?
1. Create Convenience
With the advancements of what people are able to do on their commute, during their lunch break at work, or even waiting in line at the grocery store, businesses big or small need to keep up. Consumers need the convenience of using your service or purchasing your product on the go. Having a mobile application for your business has never been so important than it is now. What about your website? Yup that too should be mobile friendly along with the content that it carries.
2. Lower Cost
Internet marketing can be one of the least expensive things that you implement as a part of your marketing plan. Creating an e-commerce site for your business to sell special print t-shirts is going to be cheaper than having a store front property to sell the same shirts. Outreach, fostering relationships, advertising and more can be significantly less expensive online than in the traditional sense.
3. Expand Reach
With traditional marketing (billboards, radio etc.) there are only so many people that you can reach with your message. But with the wonderful world of the internet, your reach can increase while you are targeting your ideal audience. Doesn't that sound like something that you would like?
4. Value Personalization
Integrating internet marketing into your marketing plan will give your business the opportunity to personalize the message and content to your ideal customer. When this happens, your potential customer will see that you value them individually without spending large amounts of time doing so. The internet has given marketers the capabilities to be smart about automation while still catering to the needs of the customer.
5. Nurture Relationships
Humans are social beings that require emotional needs being met. We value when companies see our needs and meet them. We create relationships with businesses that help with brand awareness, loyalty and more when we feel nurtured. Once that takes place, businesses are able to use social media, email nurturing and more to make sure that customers feel like they are important to the business. Because guess what? They are!
6. Review & Analyze
With all of these components, we are able to measure success which allows businesses to analyze and improve their strategies. This is crucial to ensure that your business is the best that it can be. Increase your budget for Google Adwords? Change your social media campaign? These are all decisions that should be made after you analyze its current performance. This will help prevent changes that aren't necessary or don't have strategy to be successful.
Isn't it time to incorporate an online strategy to your marketing plan? We would say "Yes!" Internet marketing is cost effective, can increase your reach, give convenience to your customer and your business, and focus on personalization all while building and nurturing relationships. Take your marketing plan to the next level and implement an internet marketing strategy.
Related Articles:
Grow Your Business With 5 Proven Internet Marketing Strategies
3 Marketing Tips Even the Best CEOs Don't Know
To learn more about how internet marketing can help supercharge your business, download our free offer below!