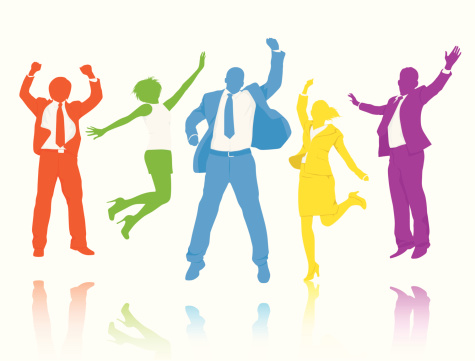 When you are evaluating your business, do you see that there are major flaws that seem to be out of your control? You might see little change in production, lack of creativity or motivation, financial doom glooming over your shoulders and an environment that is stressful and unhealthy. What do you do?
To create a company full of Passion & Provision, you need to focus working on the craft of running a business. You have been directing attention towards working "On" your business. Once you focus "On" and "In" your business, you as a business owner will see that your financial needs are being met. It is time to look at your systems in place and it's time to make those systems better!
Why should I trust that evaluating my system will help?
According to the Carrot Principle, written by Adrian Gostick and Chester Elton, the simple aspects of good management is referred to the Basic Four. The Basic Four includes: goal setting, communication, trust and accountability. These are based on a study of 200,000 managers and employees to analyze how the best managers treat their employees and how those employees feel about the workplace that they work in every day.
Do you want your employees to be willing to take a paycut and work for somebody else, just to get away from you and your poor managerial skills? I didn't think so! The proof is in the study that Gostick and Elton wrote about. These steps will help you create a system that can get you one step closer to owning a Passion & Provision company. Let's break down each of the points of the Basic Four of the Carrot Principle.
The Basic Four +1
1. Goal Setting: Your employees have a need for direction. If there isn't a clear goal set in place and it isn't well communicated, then it is easy to fall into a trap that isn't motivating and is a place for coasting. You can give your employees a set goal and change their attitudes towards the task at hand by showing and sharing your passion to get to the goal. Of the Basic Four skills, goal setting had the strongest correlation to employee satisfaction.
2. Communication: We know that great leaders have noteworthy communication skills, but what do they do different than you? They clearly set goals and values, openly welcome feedback or discussion about important issues regarding the company, and use the chain of command properly when they need information they don't have.
3. Trust: This seems easy but can be so difficult to earn. You may think that you are a trustworthy leader but do your employees think that you are trustworthy? The Carrot Principle notes that a leader who is trusted shows that they own up to their mistakes, keeps their word and commitments and surround themselves with other people who they feel can be trusted. These leaders also take the high road when making ethical decisions, and they don't act deceitful.
4. Accountability: Holding people accountable isn't only just recognizing people's mistakes, but it is recognizing their successes. This equilibrium of accountability will focus on employees' successes but allows them to be willing to take risks. When people are held accountable, you will set your employees up to do everything that they can to be successful and to be their best to help your small business.
The 5th element or "+1" of the Carrot Principle, is recognition. This brings the whole Carrot Principle home. Recognition is the catalyst to the Basic Four and will give you faster and multiplied results within each of the otherskills. The concept of giving your employees recognition is simple but can be hard to make a priority. Whether it be verbal "thank yous" or giving your employees a free lunch on the company, you need to show appreciation and recognize their hard work to ensure that they produce the same quality of work again.
Want to learn more about the Carrot Principle? Check out this video!
(video courtesy of TheSpeakersGroup)
Passion & Provision is a goal of a successful small business because you have financial stability and systems in place to make sure that no needs or wants get left behind. Focusing on the human development within your company is crucial to increase productivity, creativity and other factors to reach personal satisfaction.Visit us at Half a Bubble Out to learn about our Passion & Provision, get to know our marketers, and read blogs to better your business.
What quality does your business have that makes you successful? Leave your comment below!