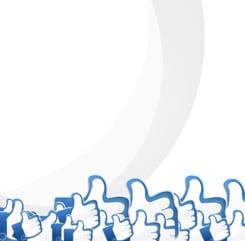 You may have heard some of the changes that Facebook was making to its algorithm and how content will be displayed to users back in April. Today Facebook has announced even more changes to its video algorithm. For every business that is on Facebook, visibility is key. If you are a company with a social media presence, how much your posts show up may be impacted. Depending on the extent of your social media marketing and user base, these changes could impact your marketing reach quite a bit.
Here is a summary of the recent changes for publishers and the even more recently announced changes to Facebook videos:
Facebook Content Priority
One of the biggest changes, and the one likely to have the most impact on publisher reach is the prioritization of friend posts over publisher posts and interactions. This will primarily apply to friends that you already interact with on the site. As a Facebook user, you will probably like this a lot. As a business trying to market on Facebook, it means that your audience will see less posts related to your page and that could have a serious impact on your brand's visibility.
Multiple Posts From the Same Facebook Publisher
Facebook is now allowing multiple posts in a row from the same publisher to show up in the news feed, which hasn't been allowed up until now. This change is particularly impactful for those without much content in their feeds in the first place (not a lot of friends or pages that they interact with).
Less Focus on Friend's Actions
We will also be seeing less focus on what people do on Facebook – such as comments they make on someone else's post, what they like, etc. While I'm still personally not seeing this change, as a Facebook user I can't say I'll be sad to see those notifications decline on my news feed. The downside is that as a brand, people will see less of the notifications that show someone liking your posts or pages too.
Recent Video Algorithm Changes
Today, Facebook announced a change in its video algorithm that takes into account actions such as adjusting the volume and going full screen. Facebook already keeps track of who likes to watch videos in its news feed, and shows them more videos higher up in their feed.
The difference here is it will show people more of what they want to see based even on videos that they don't "like" or comment on. Aside from this sounding almost creepy, it could be a plus for your business if you post a lot of videos and there are people watching them but not interacting. Either way, you will have to watch and see whether it ends up showing your video more or less in the long run.
These are the most recent Facebook algorithm changes. Depending on your type of Facebook interactions and audience, you may be affected in different ways, whether with reduced reach or how much your videos are shown.
If you want to learn more about marketing on Facebook, download our free guide by clicking below:
Since 2002, Half a Bubble Out has been dedicated to providing marketing, advertising and small business consulting that meet the needs of our clients. We specialize in powerfully telling stories through Inbound Marketing to grow your business filled with more passion and provision. Based in Chico California, we serve clients throughout Northern California and across the country to New York.