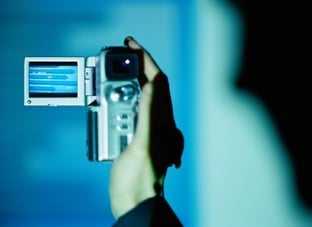 I was recently in a meeting where our client brought up the idea of adding a short video to her blog posts. With a slight – possibly reluctant – smirk on her face she asked us what we thought of this idea. Like each of our clients, she wants her business to get found online by potential customers. We've been helping with this process by creating a holistic inbound marketing strategy, part of which includes blogging, organic SEO services, downloadable eBooks, and email campaigns. I smiled at our client and said I thought it was a great idea, something worth trying at least, for many good reasons that I just happen to come across in the recent article below.
Say Hello to Vlogging: Why You Should be Video Blogging
July 2, 2015 — Posted By Matt Byrom, Business.com
So, you're using video in your content strategy, and you're also blogging. Hopefully, you're noticing pretty steady results from both, but you know what would be even better for your business? Vlogging.
Yes, that's right: Video + Blogging = Vlogging.
Vlogging is a cost-effective and innovative way to increase your brand awareness. And, in this article, we're going to prove it.
Read on to discover five reasons you absolutely need to start vlogging!
Related Article: Telling Your Brand Story: How to Engage the Masses
1. Everyone Loves Videos
Everyone loves to watch videos: 6 billion hours of video is watched on YouTube every month.
And, everyone loves to share videos: 92 percent of mobile viewers share videos with others.
Vlogging is a great way to get a lot of videos out there quickly, because they don't take much effort to create. It's just you, or someone else in your business, talking to a camera.
Another reason that vlogging is great is because it's effortless for your viewers too. People want information quickly and watching a video is always going to be quicker than reading a block of text.
Through your vlogs, you could even target specific issues that a lot of your users are struggling with—sort of like an FAQ video. Take a look at this Wyzowl vlog as an example:
2. Videos Make You More Human
If you think about it, we never really know that much about the companies we do business with. Sure, we can take a look at the photographs on their team page, or read their "about us" section if we have time, but there's something about a vlog—seeing a human being talking directly—that is more relatable.
The more human your company is, the more trustworthy you appear and the more customers you will gain. You can further instill trust through vlogging by asking your customers or business partners to record themselves giving testimonials. Hubspot have recently started doing this with their partners:
[Continue to original article: Say Hello to Vlogging: Why you Should be Video Blogging]
The only downside I see to vlogging is the possible lack of time and resources you may have, but even this is a hurdle than any business can easily jump. These videos don't have to be Oscar-worthy productions. In fact, simple, short and sweet is the best way to go. Anyone can start by just using their smartphone and giving a two-minute tip of the day.
Vlogging is still relatively new and won't be going anywhere anytime soon. Now is a great time to see what it can do for your online marketing strategy. Will it even help support the organic SEO services you're investing in? I love the way this article put it: "If people love something, it's highly likely SEO will love it too."
So, to our client who brought up vlogging (you know who you are) – I can't wait to see your first vlog!
If you'd like to learn more about implementing a holistic inbound marketing strategy for your small business, contact us for a free marketing assessment below.
Since 2002, Half a Bubble Out has been dedicated to providing marketing, advertising and small business consulting that meet the needs of our clients. We specialize in powerfully telling stories through Inbound Marketing to grow your business filled with more passion and provision. Based in Chico California, we serve clients throughout Northern California and across the country to New York.