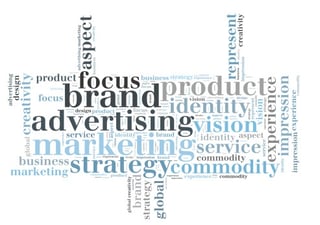 You work so hard to make your company great, striving for excellence in even the small things because you know that great companies are made by a thousand little efforts. You know about your company's passion, quality service, and how you can really benefit your target market. The question is, do your [potential] customers know? It's always a challenge to make your company known, so to help you out here are a few of the digital marketing services that will help to build your brand awareness.
Social Media Marketing
We're all familiar with social media like Facebook, Twitter, Instagram, and many more. In fact, these days your grandma is likely on there too. And that's exactly why your business should be. Social media is one of the best ways to build brand awareness, so make sure your business is right there where your customers are.
Here's an example from Oreo's Facebook page sharing content: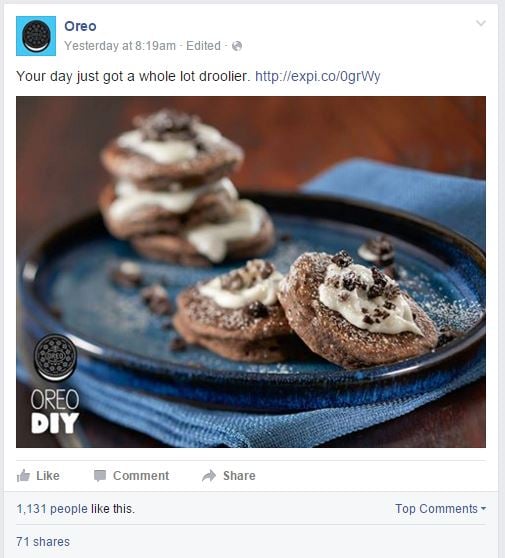 You can either manage your social media in-house, or hire it out to an agency. It's important to do social media right, and to be actively engaged with your audience. However you decide to manage your social media marketing, it's important to show up so that you can have the following benefits:
Interact with your customers (addressing positive and negative comments).
Show your company personality and let them get to know you.
Share your great content (more on that below) and products.
All of this builds familiarity with your brand, and helps your customers know what you're about and what you offer.
Content Marketing
Content marketing can encompass many forms. Some of the most common content marketing forms are blogs, eBooks and videos. This type of marketing has become extremely popular in recent years as people sort through the clutter online and seek out quality information that is helpful to them.
Content marketing gives you an opportunity to share appealing articles and helpful eBooks on topics that your audience finds naturally interesting. In fact, the natural draw of good content is one of the biggest reasons your business should be creating it (or hiring it out).
Email Marketing
We all love to get more and more emails right? Well, maybe not. Unless they are emails we have signed up to receive and are not spammy. You probably aren't against emails that link to an article you find interesting, tell you about the latest blog posts you read, or emails that include nice discounts on products you're considering buying.
All of this to say, the right type of email marketing can be very effective. In fact, email marketing is one of the most effective forms of digital marketing in terms of return on investment. When you develop a good email list, it allows you to have long-term relationships with your customers and offer new things. Your recipients can always opt out if they don't want to receive your emails anymore.
Paid Ads
Another common form of digital marketing is paid advertising. The custom targeting available on platforms like Google Adwords, BingAds, Facebook and Twitter is really amazing. This type of marketing can bring great returns, but can also get expensive fast. That's why it's really important to learn the ins and outs yourself or hire it out to someone who provides paid ads digital marketing services.
Here's an example of paid ads on Google for the search "new york steakhouse":

Here's an example of a sidebar paid ad on Facebook: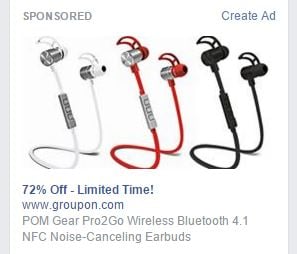 Depending on the platform you use, these ads can show up at the top and right hand side of Google search results, or be on Facebook in the news feed or right hand side. Your particular strategy will depend on the needs of your business, but it's good to at least consider if this marketing strategy is right for your business.
Search Engine Optimization (SEO)
Search engine optimization helps your website to show up naturally in search engine results, primarily on Google and Bing. This is an important part of marketing your site. While it can be hard to get the top spots for the biggest search terms, your site has a decent chance of ranking for stuff locally and for longer search terms that aren't as competitive.
Search engine optimization includes telling the engines what your site is about in your page titles, headers and website content. It also includes other things we've talked about like your content marketing and social media. Sharing your content and getting visitors and links to your site can have an impact on your rankings. Because of its holistic nature in today's online landscape, search engine optimization is one of the most important digital marketing services you can invest in.
Here's an example of Google organic search results for the term "new york steakhouse":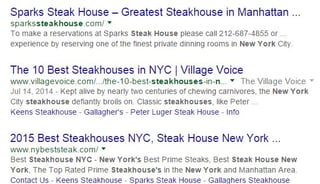 If your site ends up ranking in the first few results on Google within your geographic location, you could end up with tons of free traffic that is targeted and likely to convert.
Where To Go From Here
This is a brief overview of the types of digital marketing services that can really benefit your business. Feel free to Contact us if you are considering hiring an agency for your business marketing needs. To get regular tips on marketing your business subscribe to our blog below. We love to educate you and keep you informed so you can have an effective marketing strategy.
Since 2002, Half a Bubble Out has been dedicated to providing marketing, advertising, and small business consulting that meet the needs of our clients. We specialize in powerfully telling stories through Inbound Marketing to grow your business filled with more passion and provision. Based in Chico California, we serve clients throughout Northern California and across the country to New York.