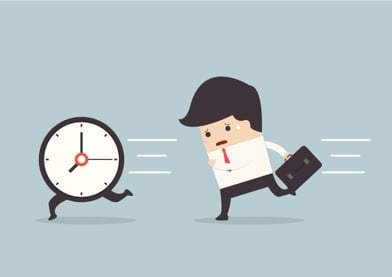 The most successful businesses are using content marketing. Why? Because it works. Content marketing attracts and retains customers by creating and curating relevant and valuable content that they actually want and need. Content marketing is helpful and doesn't come off as annoying like some traditional marketing methods.
But first, what is content marketing?
Just in case you need a refresher, "content marketing is a strategic marketing approach focused on creating and distributing valuable, relevant, and consistent content to attract and retain a clearly-defined audience — and, ultimately, to drive profitable customer action." (Content Marketing Institute)
Your business needs a content marketing strategy but it does take time to make one. If you don't have much time, here are some things you can do to help.
Divide up the work
If you can, dividing up the content marketing work between different people will make it easier to achieve everything. Content marketing can be time consuming, but the more writers you have, the faster your efforts will show.
Plan content out ahead of time
It makes it much easier to produce content if you are ahead of the deadline. If you have things even just a week ahead, you won't be stressing as much for content that is supposed to be posting that same week. This gives you room to move and time for things that happen in between like the editing process.
Not only does planning content out lower stress levels, it makes writing the content easier because it's already planned. Typically it is much easier to write about something that is already assigned to you with a topic and keyword as opposed to brainstorming a topic to write about, which can take up a good chunk of time!
Write about what you know
When you have knowledge in the subject you're writing about, you can get the job done quicker, with more confidence. For example, if you're a car salesman, you would probably have no problem writing blogs on buying cars, car maintenance, etc. You know a lot about your industry, so writing about it shouldn't be too difficult.
Curate
Curating content can cut your work time in half. Curating information means you are taking someone else's content and adding it to yours, but giving them credit. Therefore it is not infringing on any copyright. For example, you can curate a blog post by including a portion of it in your own blog and commenting on it or using it as means to help describe something more or for example purposes.
Hire an agency
If you just simply have NO time at all or are having a hard time putting together and effectively implementing a content marketing strategy, hiring an agency that specializes in this is the right decision.
If this is something you are interested in and are too busy to create a content marketing strategy, we can help.
Since 2002, Half a Bubble Out has been dedicated to providing marketing, advertising and small business consulting that meet the needs of our clients. We specialize in powerfully telling stories through inbound marketing to grow your business filled with more passion and provision. Based in Chico California, we serve clients throughout Northern California and across the country to New York.