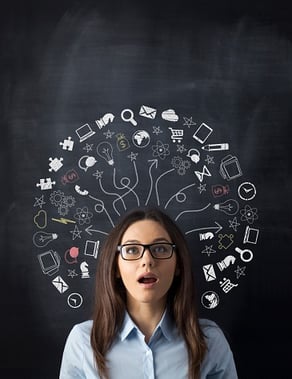 Over our years of being a social media agency, we've learned a thing or two. Here's a social media agency survival guide for when you're first starting out, come across some social media problems, or are getting burnt out on creating content. We've got your back!
Have a Plan
We know this probably isn't the first time you've heard this. We don't mean to sound repetitive, but it's crucial to have some sort of game plan when it comes to any of your marketing strategies, social media included.
Know who will be responsible for overseeing Facebook/managing it
Know who is responsible for social media training
Have a backup employee for social media
Have all social media logins/passwords documented and saved somewhere accessible
Have a social media policy
Have a disaster plan
Have a content calendar
Have a plan for upcoming events/holidays
Know what your social budget is
Think Quality Over Quantity
When it comes to social media, pretty much everyone has an opinion. Some people will tell you just to post as much as you possibly can and eventually it will work. Well, truthfully that's just plain wrong and only a small percentage may get lucky with this tactic. As a social media agency, we're telling you that if you have to choose between quantity and quality, quality is the answer. However, there is a happy medium!
Be Human, Be Social
With all of the social media tools and software now available for businesses to use, social media has surprisingly become incredibly un-social. Sounds like an oxymoron, right? Don't get me wrong, automation and social suggestion tools are helpful for social media marketing for businesses, but it's important to not forget that social media is intended to be used as a social platform - not just an automated, robotic platform to blast your brand's marketing.
You'll see many people doing this. Don't become one of them. Engagement is incredibly important. In order to see positive engagement and truly connect with your customers and target audience, you'll need to be genuinely social. Taking the extra time to do this will pay off.
Be Consistent
When you set out on your social media journey as a business, be sure to stay consistent. It's best to dedicate yourself to a couple social platforms that you know you'll be able to give your all rather than spreading yourself too thin over too many of them.
Create Content
Creating content is always a good idea for your marketing efforts, but it also helps you on social media. Content that is helpful and brand specific gives you options of different things to share on social media. You want content that is your own to share so that you can bring your social fans back to your links, webpages and landing pages. This is how you see how well your social traffic is doing when it comes to turning into leads and hopefully customers. ROI is hard to calculate when it comes to social, but this is how you'll be able to start seeing statistics leading to that number.
Be Patient
Think of social media as a long term relationship, not just a one-time date. It's a relationship you need to be patient with, nurture, really care about and understand the benefits that will come. Don't expect 1,000 followers in your first few months of starting up a social media account. Be patient and care about quality leads and followers.
Whether you are just starting out on social media marketing or are trying to improve your business's social presence, we hope this social media agency survival guide is helpful and comes in handy for you!
If you're a bit overwhelmed or just don't have the time and would rather hire an agency to do all of your social media marketing for you, we can help!
Since 2002, Half a Bubble Out has been dedicated to providing marketing, advertising and small business consulting that meet the needs of our clients. We specialize in powerfully telling stories through inbound marketing to grow your business filled with more passion and provision. Based in Chico California, we serve clients throughout Northern California and across the country to New York.