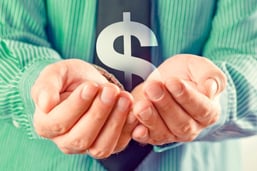 Are you the owner of a business? Are you in charge of marketing for a business? If you are either of those options, you likely have a pretty strict budget (if any) for marketing and have to decide what to pursue and what just isn't worth it.
Should you do paid search where you pay for every click and for every visitor to your site, or pay by the amount of views a particular ad gets?
Or maybe you are considering SEO (search engine optimization) but don't know if it's really possible to be successful and if there is such a thing as affordable SEO. In this post, I'm going to talk about SEO and why it may be more affordable than you think.
Is There Such a Thing as Affordable SEO?
First, you have to define affordable. It really comes down to your return on investment compared to your marketing alternatives, or not marketing at all. If you are a million dollar a year company, you likely have some room in your budget for marketing and know the importance of showing up online. When you consider your options for marketing online, you will quickly realize that it can get expensive.
While paid traffic is the right option in some cases, and sometimes goes well alongside a more organic approach, if you only use paid traffic to get visitors to your site you are relying on a very expensive means that requires an ongoing and increasing budget allocation. This method has a direct cost to visitors correlation – if you want more visitors, you have to increase your budget.
The advantage of SEO is that you can allocate a set budget that won't need to go up as your traffic goes up. As long as you are getting a return on your investment, it can be very affordable for your business.
SEO is a Long Term Strategy
The dynamics of SEO are different than paid advertising, and it is much more of a long term strategy. There are no hard and fast guarantees when trying to rank on search engines, but there are many best practices that have a high likelihood of getting your site to rank organically. This type of strategy takes patience and commitment, but can really pay off big down the road. We have seen this with many clients increasing traffic significantly by sticking to a long term inbound marketing strategy.
SEO Can Be Well Worth the Investment
As you know, it's important for your marketing dollars to get a return on investment. In other words, if you are putting money into SEO then you not only need to be seeing traffic, but you need conversions that make it worth the effort. With the right focus and strategies in SEO, your site will show up for relevant searches that are more likely to convert.
For example, if you are a medical practice and work toward building up content around your specialty and location, you can show up for people searching for your type of services and in your neighborhood.
Ultimately, search engines like Google want to show the most relevant results to searchers to help them find what they need where they need it. When done right, SEO can be a well-targeted strategy and well worth your investment. To learn more about Google's philosophy behind search engine optimization, watch the video below:
As you consider whether or not to invest in search engine optimization, make sure you look at the long term picture and how much benefit you can get from optimizing your site. It may be more affordable than other methods of advertising.
Here at Half a Bubble Out, we also teach that affordable SEO doesn't exist by itself, but is most successfully executed when part of an overall inbound marketing approach that includes blogging, social media, website optimization, and email lead generation.
To learn more about inbound marketing, download our free guide below:
Since 2002, Half a Bubble Out has been dedicated to providing marketing, advertising and small business consulting that meet the needs of our clients. We specialize in powerfully telling stories through inbound marketing to grow your business filled with more passion and provision. Based in Chico California, we serve clients throughout Northern California and across the country to New York.