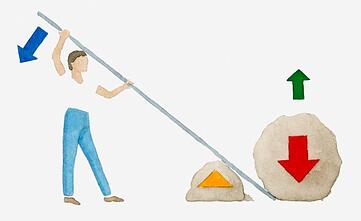 When you use the right philosophy, strategy, and tools in small business marketing, you will experience more benefits and a return on investment. Instead of wasting your time hoping and praying that your current marketing efforts are paying off, evaluate what inbound marketing has to offer. It's a strategy you can start using today to get better results than traditional marketing techniques.
Successful small business marketing requires you to figure out how to leverage the resources you have at your disposal to get results. Think of the amount of energy you'd have to expend to move a boulder. You just end up exhausted with nothing to show for it. But if you have a lever and a fulcrum, you can use it as leverage to reduce the amount of energy it takes to move that boulder. Inbound marketing is your fulcrum. Using the philosophy, strategy and tactics of inbound marketing allows you to radically leverage your resources.
Philosophy
The inbound philosophy is simple - make marketing people love. HubSpot says it this way: "By publishing the right content in the right place at the right time, your marketing becomes relevant and helpful to your customers, not interruptive."
Strategy
A strategy involves seeing the big picture and how everything works together over a series of time and activities. An inbound strategy attracts strangers, converts them to leads, closes those leads into customers, and delights those customers to become promoters of your business.
Tactics
Tactics are the plans and procedures used to achieve a determined result. They are the actions you are currently performing in your small business marketing to get more customers. Some examples of inbound marketing tactics are:
Blogs
Whitepapers and eBooks
Email nurturing campaigns & newsletters
Podcasts
Videos
Social media posting
Are you currently spending money on costly traditional techniques such as TV commercials, radio ads or billboards? If you are, do you know how well your marketing dollars are being leveraged to get you more customers?
A Quick Example
Let's say you decide that social media is a small business marketing strategy you're using. Facebook and Twitter are your main platforms. The tactics you use to evaluate your social media efforts are the number of posts, likes, engagements, interactions, or retweets you're getting. You're getting concrete information about whether or not your efforts are paying off.
If you have the wrong small business marketing strategy and tactics, you'll end up stressed out, expending too much energy, and exhausting your time, money and resources for no return.
If you feel like your small business marketing is an unmovable boulder, you can leverage the time, money, and other resources you have available to you right now by contacting Half a Bubble Out. We can start helping you today.
If you're hesitant to take action and start implementing an inbound marketing strategy because you don't have proof if it will work or not, then check out the free download below to see the impact inbound marketing has for small businesses.
Since 2002, Half a Bubble Out has been dedicated to providing marketing, advertising and small business consulting that meet the needs of our clients. We specialize in powerfully telling stories through Inbound Marketing to grow your business filled with more passion and provision. Based in Chico California, we serve clients throughout Northern California and across the country to New York.