Did you know it's National Boss's Day? We sent our two amazing head honchos to Hawaii! Well – kind of. They actually told us they had the opportunity to visit Hawaii and they were seizing that opportunity, so we sent them with our blessings – and that's kind of the same thing. And you know what? They deserve it! Aloha! So in honor of National Boss's Day, I asked our staff what they love most about Michael and Kathryn. Their words say it so much better than I ever could. Read what they said below!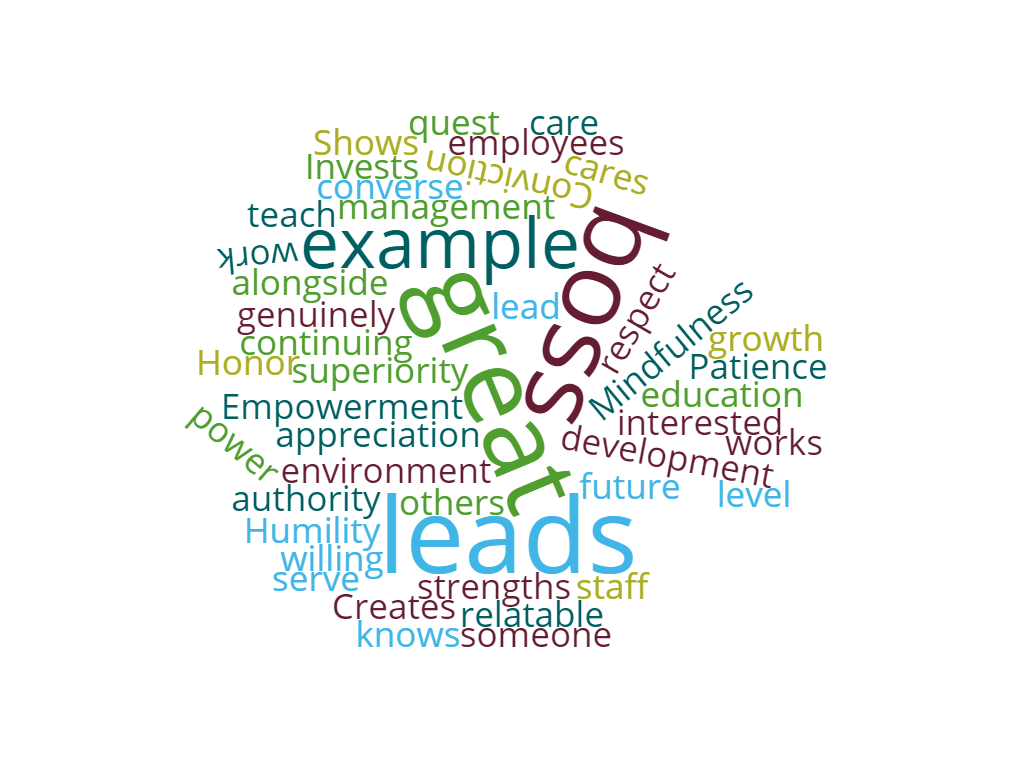 "Michael and Kathryn create a work environment that promotes progress, creativity, and small achievable goals leading to a larger goal that would otherwise seem impossible. The real kicker? They do it in a way that doesn't feel stressful. It's a relaxed atmosphere. Because of this, when coming into the office I feel excited about work. I want to be here. It makes me work harder, more diligently, and leave at the end of the day feeling relaxed, accomplished, and fulfilled.
They make work feel like coming home. They aren't just bosses. They are friends, and mentors. Confidants even. Their work ethic, attitude, integrity, and the way they honor their employees and clients leave me filled to the brim with respect for them. Though it's more than respect...it's an appreciation and satiated gratitude for the moment I come to work and feel like I'm walking in to see my second family."
-- Amarise
"Michael and Kathryn are open and transparent about the company, and have a sincere desire to help small businesses. They choose clients we can feel good about helping that are honest and upstanding businesses. They also do a great job of enabling employees to work within their skill sets, helping them to contribute in their best ways to the company's success. Lastly, they value and invest in continuing education so that our team is always on the cutting edge of the ever-changing marketing world."
-- Chris
"The BIGGEST thing I like about working with Michael and Kathryn is their heart for their family (us), their friends (clients) and their vigilance to guard our culture. They have created an environment where we can not only thrive but GROW. If you grow and invest in your people, your organization will grow and so will the bottom line. This kind of growth is sustainable because it is not "built on the backs of your people." It is built with and for your people."
-- Greg
"Michael and Kathryn are friendly and welcoming. Their perspective is very similar to my own -- they are not solely driven by the dollar signs; they're honest, and genuinely interested in the lives of their staff and care about our future."
-- Ryan
"I value so many things about these two amazing people, but the first thing that always comes to mind is their authenticity and humility. When you become an employee at Half a Bubble Out, you are joining a family and everything that comes with belonging to a healthy family."
-- Vicky
"Michael and Kathryn make me want to be a better employee and a better person. They set a great example of the work-life balance by being honorable and respectful to one another and their staff. They are intentional about who they hire, recognize how to utilize each employees' strength and empower them to work through their weaknesses, and are just a lot of fun to hang out with!
For me personally, Half a Bubble Out is my second home and Michael and Kathryn are extended members of my family. They allow me to authentically be who I am. I've celebrated some exciting milestones here including the birth of my daughter (the "Bubble Baby" as we affectionately call her here), a surprise 30th birthday party my husband planned at the office, my 5-year anniversary working here, and many more ups and downs that come in life and business. I wouldn't want to "do life" anywhere else."
-- Paige
"When my husband and I decided to ask Michael and Kathryn to marry us, it was common to have people question why we would choose my bosses. The answer was always easy. They are genuine, faithful to others, give great guidance and knowledge -- not only about business but about life -- and truly care not about just me as their employee but also Robert as my significant other of whom I wished to spend the rest of my life with.
We chose Michael and Kathryn because we knew that they would take the position of marrying us as an important task, and that they would remember the journey forever as Robert and I knew that we would. Even if or when we no longer walk the same path at HaBO, they will always play a role in our lives. Thank you Michael and Kathryn!"
-- Jessica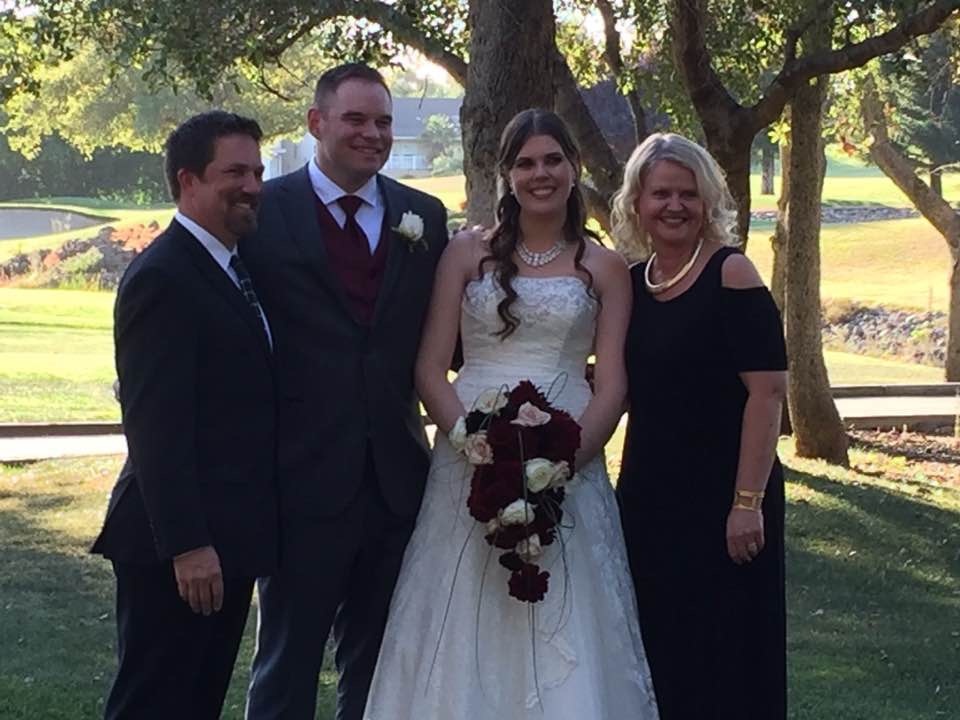 A National Boss's Day blog wouldn't be complete without having a little fun with our bosses.
Sometimes, bosses say and do the darndest things!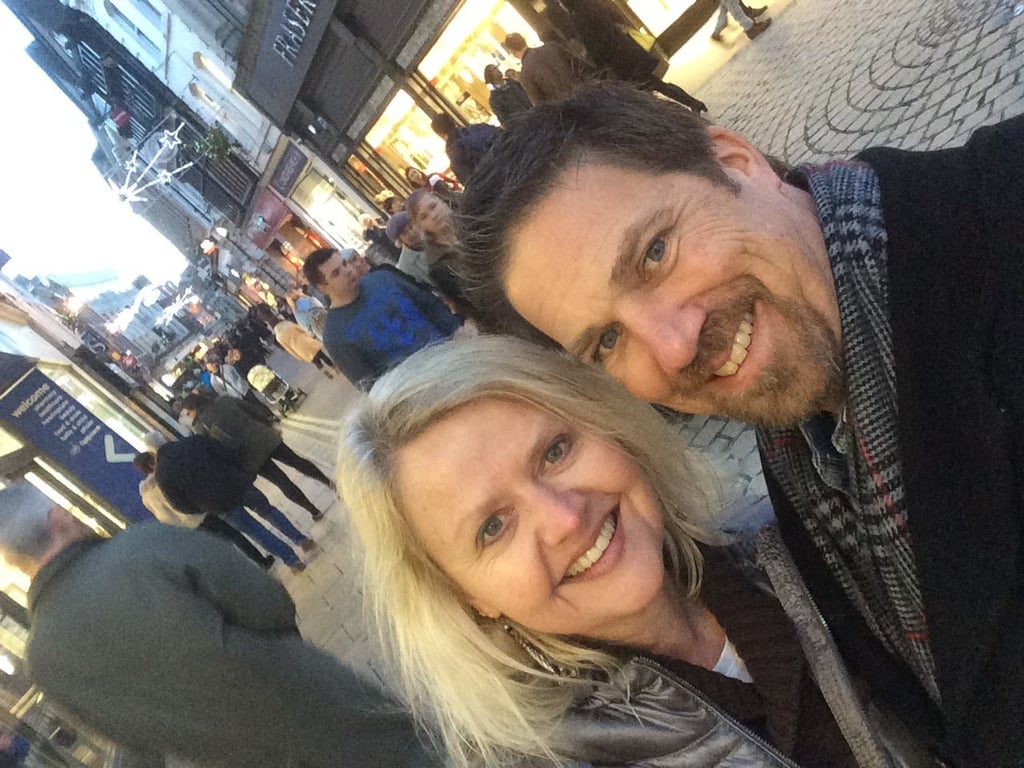 From the mouths of bosses:
"I can pull off a pony tail – I actually have a really good pony tail." -- Michael
"I only know how to produce the moon and the stars." -- Kathryn
"If you guys need anything you'll have to come closer – I have Jazz in my ears." -- Michael
"Oh, I'm talking to myself again…well, that's my life." -- Kathryn
"Hyperbole is the cousin of sarcasm." -- Michael
"I wouldn't choose Nutella. I don't want anything to last that long." -- Kathryn
"I was talking and I was trying not to get distracted by myself." -- Michael
"I'd rather be on the train with someone's head in my arm pit than standing in the subway." -- Kathryn
"This ninja stuff now is only like 25% of what being a real ninja is." -- Michael
"People are so busy trying to capture the moment they miss the moment." -- Kathryn
Action speak louder than words: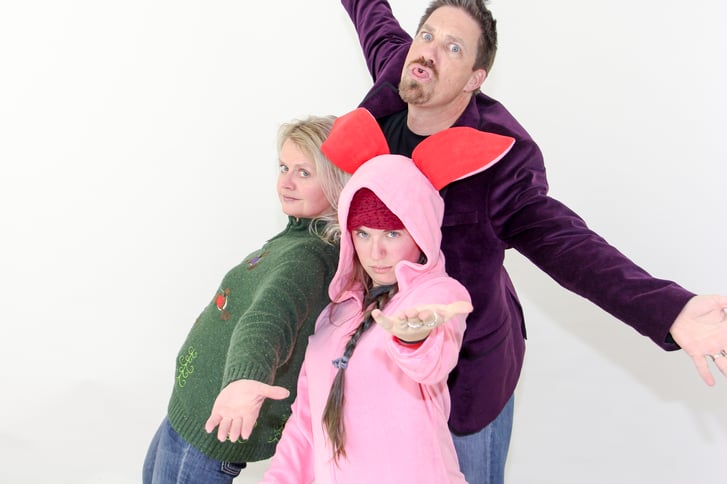 Photo booth at the 2014 HaBO Christmas Party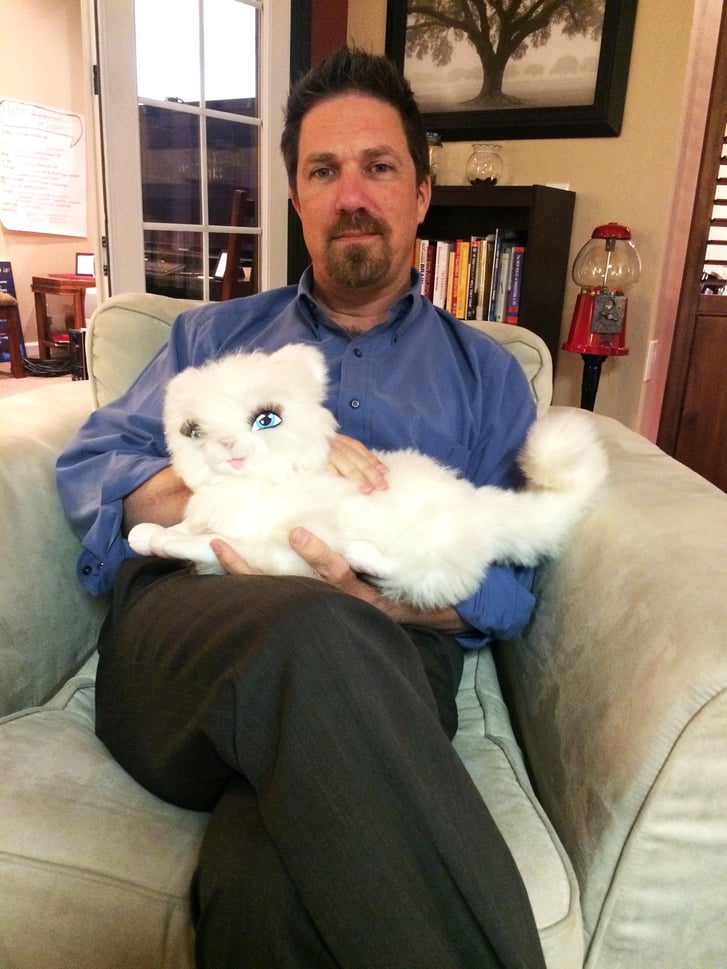 Michael petting a stuffed cat. Want more context? See the Cat PSA HERE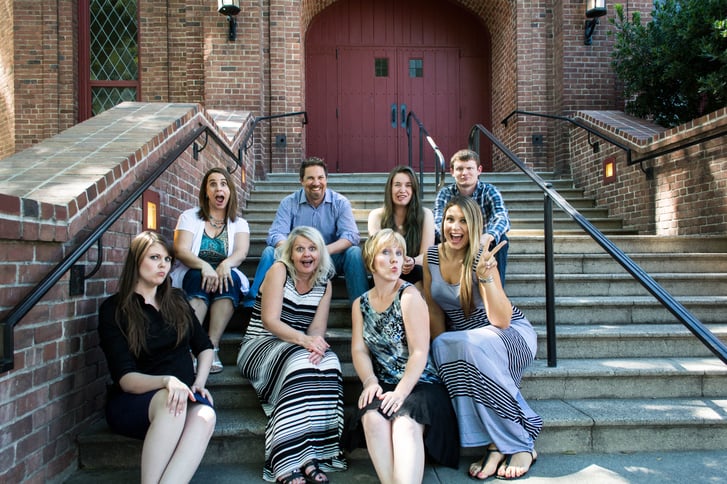 Part of the team at Half a Bubble Out
The key is taking responsibility and initiative, deciding what your life is about and prioritizing your life around the most important things.

--

Stephen Covey
At Half a Bubble Out, we believe in telling your story...and we're still writing ours.
Since 2002, Half a Bubble Out has been dedicated to providing marketing, advertising and small business consulting that meet the needs of our clients. We specialize in powerfully telling stories through Inbound Marketing to grow your business filled with more passion and provision. Based in Chico California, we serve clients throughout Northern California and across the country to New York.