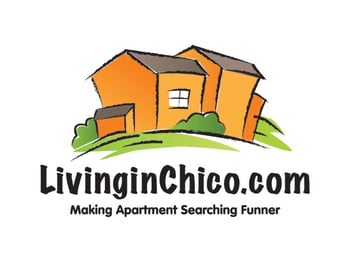 Today we are going to highlight one of our clients and talk about how sometimes sticking to a unique marketing campaign can really pay off. LivinginChico.com has been a client of ours for over 5 years now. It's an apartment searching website that helps people find the best apartments in Chico, California.
Along with that, it offers apartment hunting tips, moving tips, cleaning tips and information about everyday apartment life in the blog and downloadable offers [eBooks, checklists, etc.] We manage a full inbound marketing campaign for Living in Chico, along with a traditional marketing campaign; billboards, commercials, radio spots.
Living in Chico has received so much backlash for using the word "funner" in the marketing campaign. It's in the radio ads, commercials, billboards, website copy and well, pretty much everywhere because it's the tagline:
Livinginchico.com
Making apartment searching funner!*
*(We know "funner" isn't a word, but let's face it, it's way more fun)
Pretty catchy, don't ya think? Well, some people disagree and certainly let us know.
Here's a commercial we made awhile back to combat those complaints:
However, we continued to receive complaints from people who like to defend the English language and say that funner isn't in the dictionary and that we shouldn't use it. But as it turns out, it IS in the dictionary!
Merriam-Webster Dictionary released a video on YouTube where one of its editors explains that the word funner is actually found in the dictionary. Don't believe us? Just watch the short video below!
This just shows that a little creativity and sticking to our guns, has paid off. While some grammar nerds may not be too happy about it, the tagline sticks and enough so that they go out of their way to visit the Livinginchico.com website and complain.
Some love it, some hate it. But hey, at least it works and people are talking about LivinginChico.com!
Do you want a unique, or um, funner marketing campaign that will get you noticed? We can help spark that creative fire and help your business shine!
Since 2002, Half a Bubble Out has been dedicated to providing marketing, advertising and small business consulting that meet the needs of our clients. We specialize in powerfully telling stories through inbound marketing to grow your business filled with more passion and provision. Based in Chico California, we serve clients throughout Northern California and across the country to New York.