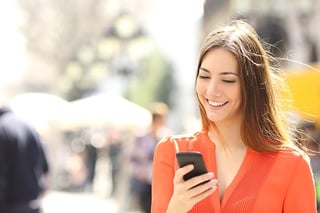 You've probably heard a lot about mobile search lately. It keeps getting more and more popular, as consumers are shifting to their smartphones to research, find local businesses and even purchase products.
In a recent article, Search Engine Land reported that the Google search app is now the 4th most popular app according to ComScore research. This is really significant, and here is what Search Engine Land had to say:
"Google Search is the only search app that falls within the top 25 most popular apps, and it's growing at a 16 percent rate year over year. The 16 percent growth is outpacing fellow top five apps Facebook (9 percent YoY) and Google Play (7 percent).
Not only is Google Search the fourth most popular app, but it is top of mind with users. Google Search is featured on users' home screens on almost 30 percent of phones. Google Search is only behind Facebook for this metric."
Read the rest of the article from Search Engine Land here.
Make the Most of Google Search App Popularity with Your Mobile Marketing:
You may be wondering what the best way is to stay on top of this trend and how to best get in front of these mobile users. There are a few key ways to do this.
When someone searches with their Google app on their phone, they will come to a Google search results page similar to what you would see on your desktop when you visit the Google.com site. On the first mobile search results page (and the only page most eyes will see), customers see three main categories that include Paid ads at the top, then a location-based list, and lastly the organic search results section.
Mobile Paid Ads (Pay-Per-Click)
These are ads you (the business) pay for each time a searcher clicks on your ad for whatever terms you have paid to show up for. In this example, looking for tires in Chico, CA we see a couple of ads.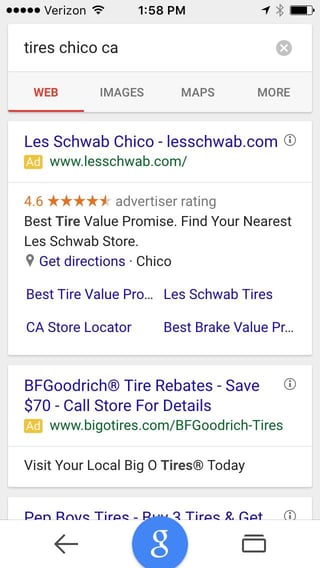 Clicking on any of these ads will lead the searcher to your site, cost you a certain amount (amount varies, but never more than you specify you are willing to pay per click), and has the potential to bring you a well-qualified customer. You can set up call extensions in the paid ads so searchers can call your business directly from the ad on their mobile phones.
Google My Business Locations
These are the listings under the paid ads and also give you the option to call directly from the listing on a smartphone. These listings are free and are set up through using the Google My Business program.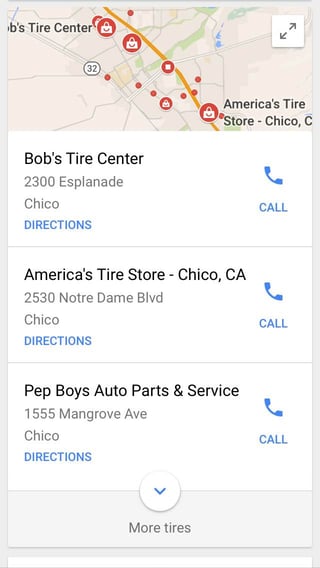 Getting this set up is important and can direct well-qualified traffic to your business at no cost to you!
Mobile Search Engine Optimization
Next up on the Google Search App mobile search results page are the organic listings, the "free traffic" that your site shows up for due to search engine optimization (SEO).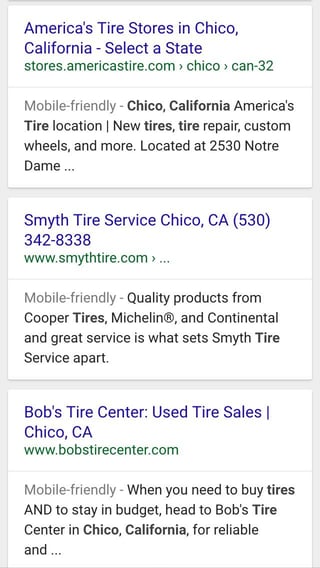 The main thing your business needs for mobile-specific SEO is to have a mobile friendly site. A few months back Google changed its algorithm to penalize sites that aren't mobile optimized when the search is done on a mobile device.
Aside from that, standard SEO strategies apply here since you will show up for the same terms on mobile that you would on a regular PC. Of course as with all SEO, the higher your ranking the better, since a majority of clicks will happen on the first few organic links.
So there you have it, a very popular app where a lot of potential customers may be waiting, and 3 ways that you can get your business to show up there. Don't be left out of the mobile search process - make sure your business is showing up there one way or another.
If you would like to learn more about search engine optimization, check out the free offer below:
Since 2002, Half a Bubble Out has been dedicated to providing marketing, advertising, and small business consulting that meet the needs of our clients. We specialize in powerfully telling stories through Inbound Marketing to grow your business filled with more passion and provision. Based in Chico California, we serve clients throughout Northern California and across the country to New York.