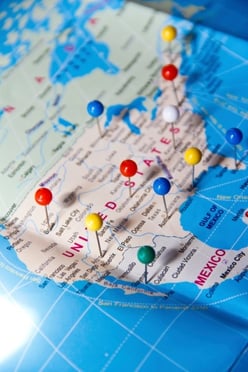 What is the vision for your online marketing strategy? Do you even have one for your business? Or do you just know that you should have one if you want to reach your target audience online? One key component of an online marketing strategy is search engine optimization (SEO). If you're thinking that it sounds expensive, hold that thought. You have affordable SEO opportunities to help your business get found online, but you must also have the right expectations.
There was a time, not long ago, when SEO companies would offer just that – SEO services to help get your company a higher ranking in Google. Now, the focus has changed. These same SEO companies also do online marketing because they know SEO is just one piece of a bigger, better online strategy.
Why you need an online marketing strategy
Your potential customers are searching online. They have a specific want or need, and if you aren't there to fill it, your competitor will be. When someone types a word or phrase in the search bar of Google, it's not like throwing a pin at a map and hoping they like where it lands. Instead, it's anticipating where they will be throwing the pin and presenting them with the map to get to your company website.
Your opportunities for affordable SEO
The goal of SEO in your big online marketing strategy is to get you more customers by putting you ahead of your competition and increasing your ROI. You have two choices to do this:
Hire an SEO company that is offering you a quick fix at a cheap price. You know the type because you've probably received a cold call or spammy email from them offering you a spot on the first page of Google for a low price of $99 a month. All you have to do is sign up. This can get ugly.


Hire a company that offers SEO services as part of a bigger strategy. This company would get to know you, your business, your industry, and your current customers. It would also use keyword research, content development, and on-page optimization to help you get found organically online. It would set goals, measure results, and evaluate if the efforts are working or if the strategy needs to be changed.
A holistic online strategy for a business contains these components:
Identifying key words and phrases, i.e.: how your potential customers are searching for the products or services you offer
A new or redesigned website with optimized web pages
Creating content in the form of blogs, eBooks and other resources to give prospects what they're looking for
Engaging, sharing, and having a presence on social media platforms
Designing calls-to-action, landing pages, and forms that turn prospects into leads
Developing an email nurturing campaign to turn leads into customers
Following customer habits through the process and continuing to provide them with helpful and relevant information
Evaluating your strategy and making changes where needed to get more customers
A crucial caveat
The term "affordable" has a different definition for each business owner. Any business can implement an SEO strategy, but whether or not it's affordable (or effective!) for you will of course depend on your budget, the company you hire, your hopes and SEO dreams. The important thing is to set expectations at the get-go so you don't feel like you're wasting time or money. An affordable SEO strategy works, it just might take longer for some companies more than others.
We can help determine what an online marketing strategy looks like for your company. Contact us today or click below for a free marketing assessment.
Since 2002, Half a Bubble Out has been dedicated to providing marketing, advertising and small business consulting that meet the needs of our clients. We specialize in powerfully telling stories through Inbound Marketing to grow your business filled with more passion and provision. Based in Chico California, we serve clients throughout Northern California and across the country to New York.