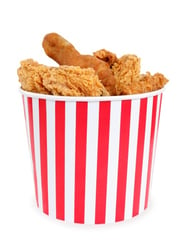 Kentucky Fried Chicken, better known for short as KFC, is widely known across the United States as a fast food restaurant that serves up [big surprise here] fried chicken. After 21 years of not showing his face, KFC's mascot is back and has been reaching TV screens across the country.
Who is this mascot? Well, the Colonel Sanders himself, of course! If you don't know who that is, click here... (warning: it's pretty weird).
And some people aren't too happy to see him again.
Why is he back?
KFC decided to undergo a rebranding with its business marketing because its brand was not as popular as it once had been, was down in sales and millennials weren't hopping on the bandwagon. So much so that 60 percent of millennials had not eaten at the fried chicken chain ever, according to Business Insider.
Check out this article for some more insight from Ad Age:
KFC Resurrects Colonel Sanders for Brand Revamp
Posted by Maureen Morrison, Ad Age
First McDonald's brought back a slimmed-down Hamburglar for a limited-time promotion, and now KFC, which is celebrating its 75th anniversary this year, is bringing back Colonel Sanders, who has been dead for nearly 35 years. According to a spokeswoman, the Colonel -- or actors who played him -- hasn't appeared in ads since 1994, though an animated version of him ran until 1998. Consumers will see the new Colonel online, in social media, on broadcast and in stores as part of an effort to update the chain's image.
The brand refresh is the first major work from KFC's new agency, Wieden & Kennedy, which picked up the account earlier this year from FCB. The push includes a marketing blitz with the new Colonel played by "Saturday Night Live" alum Darrell Hammond, store remodels, new packaging, new menu items, a new KFC.com and a "reinvented" ColonelSanders.com, which gives the history of the Colonel in all his different iterations.
KFC had been struggling with sales recently, but has begun to see an uptick, reporting a 5% same-store sales increase outside of China. The chain, along with others in China, had been struggling amid various poultry concerns including the Avian flu.
Continue Reading Original Article: KFC Resurrects Colonel Sanders for Brand Revamp
Rebranding a business, especially such a large one can be a risky thing to do. It can often make or break the business. In this case, so far the numbers show that KFC made the right decision. It definitely has brought its name into the limelight and made people more aware of the chain. While some of the responses have been negative, they're still being talked about and are top of mind.
According to Greg Creed, the CEO of KFC parent company Yum! Brands says that one out of five people hate the new ads featuring the Colonel. (Business Insider)
"So far the response has been about 80% positive, 20% hate it," Creed said at a conference in New York on Wednesday, according to industry journal Food Business News. "And I am actually quite happy that 20% hate it, because now they at least have an opinion. They're actually talking about KFC, and you can market to love and hate; you cannot market to indifference."

Personally, I take no offense to them but only find them annoying. What do you think of KFC's rebranding and new business marketing tactic bringing back Colonel Sanders in its new advertisements?
Does your business need a rebranding? Contact us below for a free assessment!
Since 2002, Half a Bubble Out has been dedicated to providing marketing, advertising and small business consulting that meet the needs of our clients. We specialize in powerfully telling stories through inbound marketing to grow your business filled with more passion and provision. Based in Chico California, we serve clients throughout Northern California and across the country to New York.