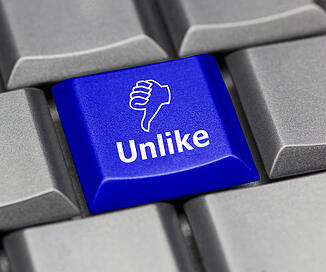 We have so many clients that continue to want to push the majority of their social media efforts toward Facebook. However, is that really the smartest thing to do any more? Our response is typically, no. Facebook is no longer the powerful marketing tool it once used to be and studies show that engagement among business Facebook pages is definitely plummeting.
This is not to say that Facebook is dead. Facebook still has something special going for it and it's going to be around for quite some time. Sure, people are constantly being distracted by other social networks popping up, which seems to be like every other week. But, some how Facebook is still standing its ground. Nobody dare delete his or her Facebook page—but why? The mystery of Facebook…
Anyways, back to Facebook engagement plummeting and why businesses should not put all their marketing eggs in that one social media basket.
All this hoopla about Facebook began in March when it announced that organic reach for brands and businesses would decline.This forces many businesses to have to buy advertisements from Facebook if they even want a small percentage of their fans or new fans to see their posts.
We are constantly urging our clients to embrace other social media networks because of this. While Twitter isn't for every business, it is one of the best social networks to promote your content and actually have your tweets be seen. No algorithm or promoted posts holding you back!
Check out this blog post that displays the grim reality of what Facebook has become for businesses.
New Report Reveals Just How Drastically Brand Engagement is Plummeting on Facebook
Posted by Joe Lazauskas, Contently
Few reports have rocked the marketing world this year like Valleywag's revelation in March that Facebook was in the process of slicing organic reach for brands from 16 percent down to one or two percent.

But while that figure has been the talk of the town for the past three months, we haven't had a clear picture of the impact that change has had on brands. Until now.
According to a new report from Simply Measured, the total engagement for the top 10 most-followed brands on Facebook has declined 40 percent year-over-year—even as brands have increased the amount of content they're posting by 20.1 percent.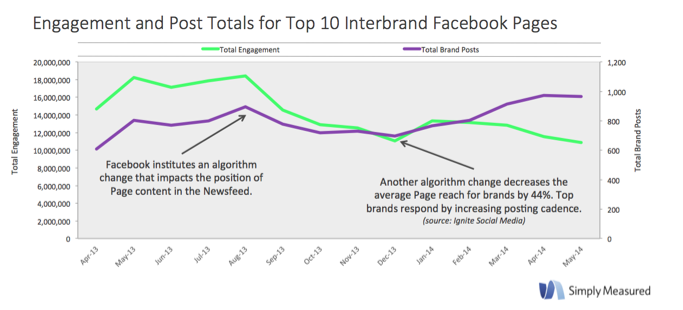 (Image Source: Contently)
Here are the results broken down for a number of top brands on the network. Someone at Facebook ought to buy Audi's head of social media a drink.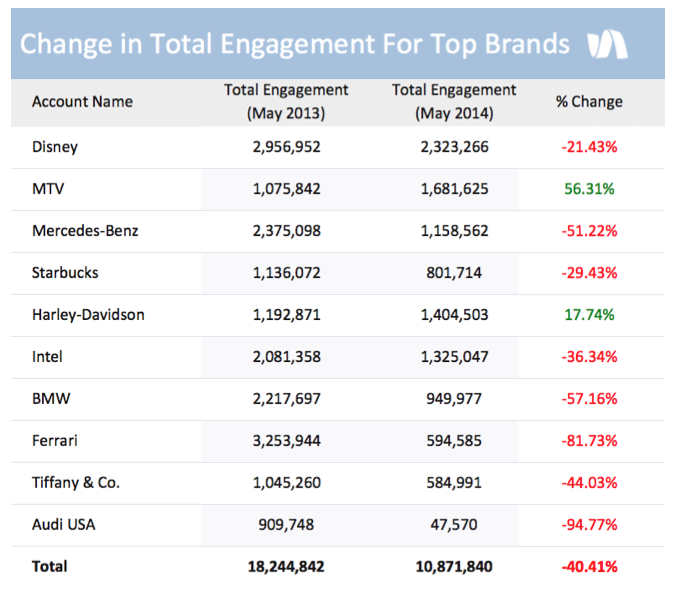 (Image Source: Contently)
These numbers are even more striking when you consider engagement is significantly down

even though brands are almost certainly spending more money to promote their posts to combat plummeting organic reach.

Facebook's ad revenue reached $2.27 billion in Q1 2014, up 82 percent from Q1 2013

.
For brands on Facebook, these are dark days. They can choose to spend more money to reach fans they had already accumulated in the past, but Facebook will likely decrease branded reach even further.
What do you think about Facebook? Is it here to stay? Do you utilize Facebook for any marketing purposes?
Related Posts:
Social Media News: Facebook Introduces Relationship 'Ask' Button
Social Media Update: Facebook Makes Changes to Business Pages