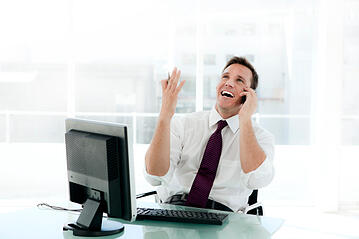 You may be asking what the difference is between normal lead generation techniques and Inbound Marketing lead generation techniques? Well, there are many different lead generation techniques that are employed across industries (some frankly are better than others). We like to focus on marketing that people love, so we choose to implement an inbound method for generating leads. But, don't let me get ahead of myself. Let's start with the basics:
What is a lead?
A lead is a person who has in some way, shape, or form indicated interest in your company's product or service.
When someone has indicated interest in your company, it makes the first interaction much more enjoyable. Looking at it from the lead's point of view, how much nicer is it to get a call or email from a business in which you have shown interest in, instead of getting a cold call or "junk" mail from businesses you have no interest in whatsoever.
Here are 2 different scenarios. Maybe you can relate to them, from both sides of the experience:
Scenario A: You open your email inbox and there is an email selling the latest and greatest hearing aid technology.
Problem: You don't have a hearing problem, you are nowhere near the AARP age, and you have never heard of the company before (no pun intended!). You might feel annoyed and hit delete, or worse, you feel a bit violated since your contact information is obviously on a list that is being sold or shared without your "opt in." Unfortunately they have the wrong information about you since their product is not helpful to you, nor are you interested.
Scenario B: Open your email inbox and there is an email from the city recreation department sharing the children's summer program options.
Solution: This makes you smile, since as a parent, you want to keep your children involved and engaged this summer. You have been wondering what to do with their mornings so you can get some work done. Bam! This helpful information has just made your day (and summer)! What is even better? Since you had previously signed up for the city rec newsletter, you know that the city rec department isn't soliciting your information, but personalizing the information they send you. It feels as if they understand your "summer with children" dilemma.
Scenario B lead generation techniques are beneficial to both parties- the potential customer and the marketer. The potential customer feels helped and cared for, and the marketer gets to engage people who are genuinely interested in the product or service.
Pieces and parts of Inbound lead generation techniques
With inbound lead generation techniques there are 4 essential components + 1 to put the icing on the cake. These include:
CTA:
Otherwise known as a Call To Action. This usually comes in the form of a clickable link or button that calls your website visitor to take the action-typically by clicking on the link so they can get more information on a topic they have interest in.
Landing page:
Once a visitor clicks on the CTA link, they should be taken to a landing page. This page is free from distractions such as navigation, and focuses on one thing-the offer in the Call to Action. If your visitor clicked on "Get Your Summer Rec Events Schedule Now," they would be directed to a landing page with a form for them to fill out, entering their contact information and submitting in order to get the Summer Rec Events Schedule they are interested in.
Form:
The forms are hosted on the landing page and include fields to collect information in exchange for content. This information includes contact information such as an email address, as well as other information that is worth exchanging for.
Content Offer:
This is the relevant, helpful content or something of value, that visitors are willing to exchange their information for. The content can be in the form of eBooks, whitepapers, videos, webinars, coupons, and on and on… The content is focused on providing value and building relationship with the lead. It is a way for your business to share your expertise with your potential customers and increase your brand awareness.
The offer is valuable enough for the visitor to click on the CTA, land on the landing page and fill out the form with their personal information in exchange for the valuable content. See how all these pieces fit together?
To make this lead generation flow even better add:
Lead nurturing automated emails
These are helpful follow up emails after a visitor has become a lead. These emails are filled with more helpful offers and are an important component in qualifying the inbound leads you have generated. If leads continue to interact with the emails and offers, your sales team is better able to sift out the qualified vs. unqualified leads.
So back to our scenarios. As in scenario B, when your marketing team is able to attract website visitors who are genuinely interested in your industry, product, service or your business, you can attract more qualified leads. As you attract more qualified leads, your conversations rates increase and your ROI increases.
So, if you are interested in how to incorporate inbound lead generation techniques into your internet marekting strategy, download our helpful content (also part of our lead generation techniques for our business) and a BONUS: if you click on the CTA below you can actually particapate in the inbound lead generation process first hand!
Related Articles:
The 4 Horsemen of Lead Generation Techniques
3 Lead Generation Techniques We Wish Would Disappear
Inbound vs. Outbound Lead Generation Techniques