Struggling to master social media for your business? That's why we're here! Social media is an important part of translating your business's personality, plus it can seriously boost traffic to your website. One small business that has used social media to get its brand in the spotlight is Coconut Bliss. Coconut Bliss is an organic dessert company based in Eugene, Oregon. Its ice cream now graces the shelves of Raleys and many other stores, partly due to its social media skills.
4 Tips from a Small Business With Flavor
1. Use a Photo to Convey A Message:
Use engaging photos that translate your brand's personality. If you are fun and flirty express that through photos. Coconut Bliss relies heavily on happy photos of customers enjoying their delicious ice cream. It displays these photos on the homepage to ensure visitors see them, and it also share photos across all its social media platforms.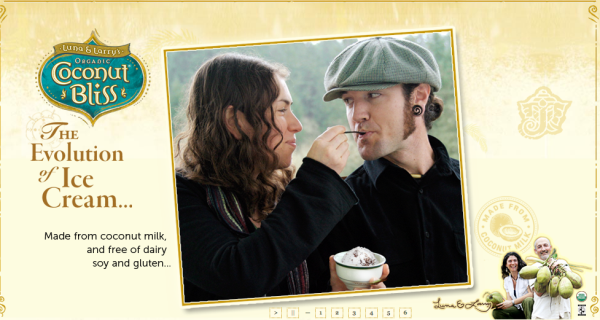 If you're a small business that sells a product, makes something, or just wants to showcase your awesome employees then you should consider signing up for an Instagram or Pinterest Account. Instagram is a great way to quickly share snapshots from your company, while Pinterest can give more detail to products and link back to your website.
2. Use Contests Wisely
In some cases we try to stay away from contests on social media, however if they are done right then they can be very effective in bringing you new business. Coconut Bliss is a great example of this. It makes an effort to partner with other businesses in an attempt to reach out to new customer bases, and engage fans.
In this year's Veggie Awards, it was able to partner with VegNews to offer a unique prize to Coconut Bliss fans while also getting partnership in a much larger promotion to all readers of VegNews. Two smart strategies: contests and partnerships. (Source)
3. Use Videos, When Writing Just Won't Do the Trick
Videos might take a little more time than writing a blog or snapping a picture, but they really can give prospective customers a better understanding of your products, and make them feel more connected to you as a business. Coconut Bliss does a great job of featuring videos on its website that really help you better understand who is behind the company. Even though the videos are manufactured on a large scale, they still keep customers in mind and really show how much the company cares about quality and meeting standards.
4. Events & Fan Gatherings
Coconut Bliss hits this one out of the park! Coconut Bliss has mini events that it shares with its Facebook community. For example, last year it had a "Night of Bliss," a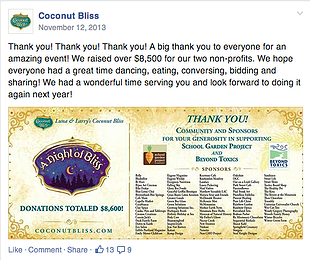 community benefit and celebration featuring live music and endless coconut bliss sundaes! Those sundaes could be the reason that Coconut Bliss's Facebook has a hefty 18,000 plus fans.
This is just one example of why social media is important for small businesses. Coconut Bliss is obviously benefiting from using social media. It has fans who are actively posting photos, and sharing reviews of products. Plus the company's personality shines through every inch of its social media and website.
Even if you're unsure about social media, or just need a plan to follow, contact Half a Bubble Out today and we will get started on your social media!
For more ways to boost your business, download our free offer below.