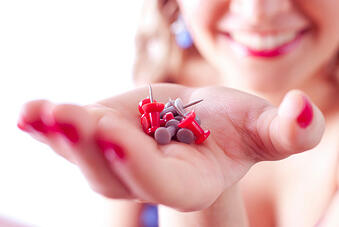 It's a Wednesday night, you've got a glass of wine in your hand and there's nothing to do. Nothing that appealing is on TV and you're too tired to try to work on that project you brought home with you. You break out the laptop and decide that maybe you'll just check up on what your friends are doing on Facebook and check your email and call it a night.
Two hours later…
Oh no! What happened? What have you been doing with your life these past two hours? The culprit? PINTEREST.
Why did you even let your fingers type that into the URL. You should know better! This happens every, single, gosh-dang time. Ugh, at least to make it worth your while you'll make that triple-layer-coconut-caramel-nut-brownie-bar [aka heaven in your mouth] that you pinned, along with 500 other recipes.
Can anyone else relate? Because I know I didn't only describe my life right there..Anyone? Ok, that's embarrassing.
Moving on…
While we all know Pinterest is a very popular social media platform right now, using it for business is a bit different than personal and while it has its challenges, it can be extremely effective! Being a platform that has over 70 million users, it's a good place to be—if you use it the right way!
Using Pinterest for business is similar to how you would strategize when you use other social media platforms for business. Just like you already do [hopefully] with each different platform, you need to customize and tweak your posts for Pinterest. You can't post exactly what you post on Facebook or Twitter.
Also, have rules! While repining is totally cool, you need to add to that repin to make it effective for your business. Pinterest can be helpful for your SEO and Google rankings but only if you help it along the way.
Check out this super awesome blog HubSpot just wrote that goes into the details of what a business pin should consist of. I couldn't have said it any better! You're going to be a pro pinner after you read this! Get excited!
Pin Like a Pro: 8 Simple Ways to Take Your Pinterest Pins Up a Notch
Posted by Tessa Wegert, HubSpot
How to Optimize Your Pinterest Pins
1.) Use high-quality images.
Many pinners have noted an increase in pin engagement when they pin simple, beautiful, high-quality photography and visuals. I highly recommend investing in this if you're looking to take your Pinterest marketing to the next level -- but you can take baby steps by simply improving the image size and resolution.
Create pins that are high resolution, and ideally more vertically aligned than they are wide -- though if you go too long, you might end up below the fold, which could hurt engagement rates. If you're looking for hard numbers, shoot for pins that are about 736 pixels wide (the expanded pin size), with a minimum width of 300 pixels. If your pins are a little different in dimension (many will be -- don't worry) you'll be alright, but clocking in around these sizes helps your pins look nice in the feed and when expanded.
2) Use rich pins to increase engagement.
Web developers can apply to Pinterest for permission to create Rich Pins -- pins that feature products, movies, articles, recipes, or places. The pins will pull in information like pricing, availability, reviews, and content ratings to make the pins more useful to your target audience.
For instance, did you know that pins with prices -- like the example below from Target -- get 36% more Likes than those without? (Source: Shopify) Or that pins with recipes get 42% more clicks than pins without? (Source: BrandonGaille)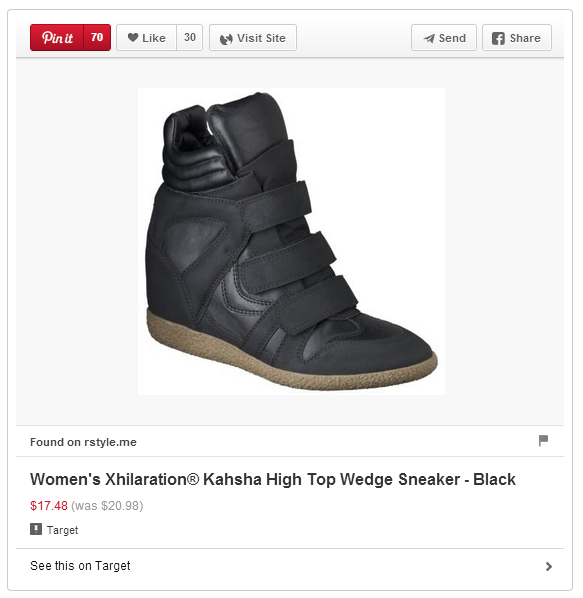 Photo Source: HubSpot
Take advantage of rich pins whenever you can to help make your pins more, well, helpful.
3) Write ridiculously good pin description copy.
I can't use rich pins for my business. Now what? Make your pins better through your description copy.
Pinterest allows for image captions up to 500 characters in length, but there's some evidence that 200 character descriptions are most likely to be repinned. Use this space to describe what's featured in the pin, but be succinct. Provide helpful information that tells the reader 1) what they're looking at, and 2) what they can do with the content that lives behind the pin.
[Continue reading original article: Pin Like a Pro: 8 Simple Ways to Take Your Pinterest Pins Up a Notch]
There you go, now you're a master pinner! Put those pinning skills to work. Plus, it's a fun platform to work on so you won't even feel like you are technically "working!" Maybe leave out the glass of wine for this type of pinning though ;)
Related Posts
Should Pinterest Be a Part of Your Social Media Strategy?