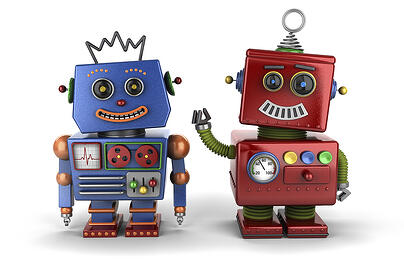 Adding keywords to a website can be difficult and frustrating, especially when you want them to naturally flow with your content. However, you must always remember that you are adding those keywords for good reason. Without them no one would be able to find your website and what good would that do for you? This blog will give tips on how to add keywords to a website without looking like a robot.
We've all seen it. Those websites that stuff the heck out of their keywords and make it extremely obvious, not to mention annoying! Whatever you do, don't be one of those websites! Your website visitors notice it and search engines are starting to not only notice but also penalize those that do.
Where Should Keywords Be?
When adding keywords to your website, it is important to include your keyword in certain places on your website and blog. Including your keyword in these 6 areas will help search engines indentify the subject of your page and rank your page in search results. It will also help to organize your content making navigation easier for your reader.
How Many Keywords Should You Have?
No, no, no! If you're counting and trying to meet a keyword quota you're already on the track to robotism. But we're learning as a general rule that one keyword per page or per blog is enough. Just type. Let it naturally flow onto the page. Be aware of your keyword but don't force it. More is not always better. Adding your keyword multiple times into one paragraph on your website will deter readers, potential customers and most importantly search engines such as Google. And we all know you do not want to upset Google.
Break Your Keywords Up
Let's say your keyword is gluten free pizza in New York. You don't have to blast that keyword all over your blog, website content or wherever it is you are putting it. Feel free to break them up for example; pizza, New York, gluten free, gluten, gluten free pizza, gluten free in New York, pizza in New York. Do you see how many phrases you got out of that one phrase? That being said, you do want to make sure you have your exact keyword phrase in the opening a closing pargagraphs, and the title of the page or blog if at all possible. As always, make sure you are using these keywords naturally and incorporating them into appropriate places.
Review
So remember, when determining how to add keywords to your website keep them in mind but don't stress about them while writing your content. Let them flow onto the page naturally, as they sound like a good fit in a sentence. That's about as natural as you can get if you ask me.
Don't count your keywords.
Don't try to stuff your keywords into your content to fulfill a quota.
Read what you have written out loud to see if it sounds natural.
Check out this quick video that outlines exactly what Google is looking for when it comes to ranking higher in search results. Having keywords on your website will help but that's only one ingredient in the recipe. The rest includes having great content, fresh content and naturally written content that people will actually find value from.
Related posts:
How to Add Keywords to a Website and a Few of My Favorite Things