Have you noticed something different while scrolling through your Pinterest lately? Like a pin from someone or a company who you don't follow? Well, if you haven't heard, that's because Pinterest recently rolled out its first paid advertisements, "promoted pins."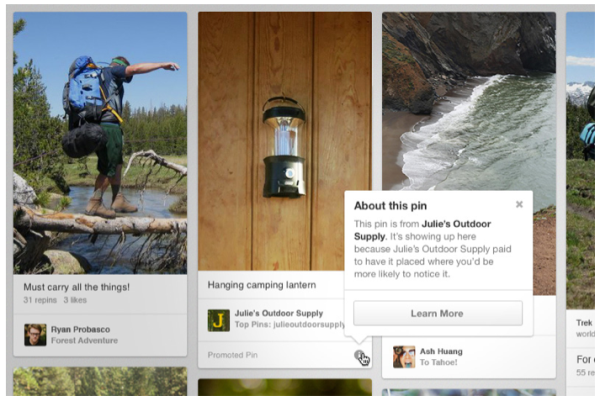 A Long Time Coming
It's not much of a surprise that Pinterest decided to utilize advertisement on their site. I mean, wouldn't you as a business? Especially if you are as large of a business as Pinterest, and not to mention one of the fastest growing social media sites out there right now. No big deal, right?
While it wasn't the first to think of promoted posts, it isn't the last to jump on the bandwagon either. The day that Pinterest went live with its advertisements, Instagram decided to let the world know that it would start advertising within its news feeds as well.
This isn't the last of this folks. As, I'm sure you all know, be prepared for every social media site to begin doing this. Are there even any left that don't do this?
A Word from Pinterest
Ben Silbermann, CEO and Co-Founder of Pinterest wrote a post on the Pinterest blog saying not to worry; the promoted pins will not get in your way of pinning, nor will they be annoying.
"They work just like regular pins, only they have a special "promoted" label, along with a link to learn more about what that means." He also added, "I know some of you may be thinking, 'Oh great…here come the banner ads.' But we're determined to not let that happen."
When it comes to the advertisements Silbermann promises four things; they will be tasteful, transparent, relevant and Pinterest will continue to improve its strategy based on the feedback it receives.
Where to Expect to See Promoted Pins
I bet you're wondering when and where you will see promoted pins now, huh? Are you consciously looking for them? Well, you can expect to seem them filtered in with the rest of the pins you view, however they will have a little "promoted" label at the bottom right corner of the particular pin (as seen in the screenshot provided by Pinterest above). You will be able to click on that to learn more about what a promoted pin is, how to use promoted pins and why you are seeing it in your feed.
So, for example, if you typed "Halloween costumes" into Pinterest's search bar, a promoted post for a particular costume may show up, working as an advertisement for a costume shop. It would be in the form of a pin and look like any other pin, but is indeed an advertisement.
Or, for another example, you may have recently been looking at boots on other websites or even in Pinterest. Next time you are on Pinterest in the general area or while searching boot pins, those boots you almost thought about buying may magically appear in a pin. Voila! Magic!
Take a look at this video for more clarification:
Should You Use Promoted Pins?
If you have ever experimented with or used Facebook's promoted posts, then you already have a general understanding of how Pinterest's promoted pins will work for you and your business. They have many similarities and blend in with things that you legitimately want to see when you search a specific category of pins.
Promoting on social media can definitely help your exposure as a business. However, be sure, as always, to have a strategy in place. It is important to first ask yourself:
Do I have the budget to advertise on social media?
Who will I promote my posts/pins to?
What will I be promoting, a product, a service?
How much money am I willing to use on this form of advertising?
Happy Pinning!
Related blog posts:
Why You Shouldn't Leave Social Media Marketing to the Intern