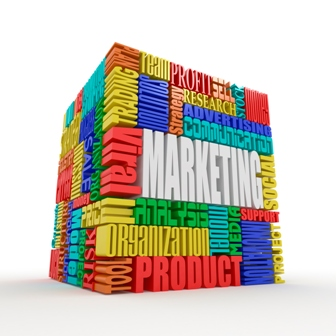 With so many words and terms in the world of marketing these days it is hard to keep track of what they all mean! A somewhat newer term, "inbound marketing" seems to be quite the hit in the marketing world today. With social media and the internet being so popular nowadays, it is important to understand how to effectively market to this crowd. So, "what exactly is inbound marketing," you might ask?
Outbound Marketing
First, let's talk about what inbound marketing IS NOT. Television advertisements, radio advertisements, direct mail, newspaper advertisements, telemarketing, and print advertisements are all things that people in the United States are familiar with. To those of us in the marketing world, we know these types of advertisements to be grouped in a category we like to call "outbound" or "interruptive" marketing. These types of advertisements can be beneficial to the right crowd, but with over 200 million people (according to HubSpot) requesting to be added to the National "Do Not Call" list, and the amount of people responding to direct mail advertisements and newspaper advertisements on the decline, we are starting to understand that this form of marketing is really starting to become something of the past. To put it simply, this form of marketing is really just… outdated.
Fast-Forward to the Year 2013
Facebook, Twitter, Instagram, Pinterest - social media sites that seem to be getting more hits than ever are on the rise and businesses have started to learn this is a great way to market their company and products. By understanding how to use these social media sites, as well as email, PowerPoint slideshows, banner advertisements, blogging, and websites for businesses, we are able to really sell our company's products and spend 62% less money on this type of marketing compared to the old school outbound marketing techniques (HubSpot). This kind of internet marketing is what we like to call "inbound" marketing.
Content at the Core
Inbound marketing, a term that has been around since 2006, has helped companies focus on building valuable content that attracts people to their product or service, showing customers that's where they want to be. Before inbound marketing, we often saw outbound marketing as bothersome and annoying. Receiving various mail advertisements that we had absolutely no interest in made it seem like companies didn't have a specific target market or maybe they were just wasting paper to try and find one. By using search data, companies that prosper using inbound marketing tactics are able to reach out to the right people and the correct target market for their business.
The Inbound Methodology
An online website, HubSpot, has coined the term "inbound marketing" to mean "the best way to turn strangers into customers and promoters to your business." They also use a very helpful image (shown below) to explain the process of inbound marketing a little bit better.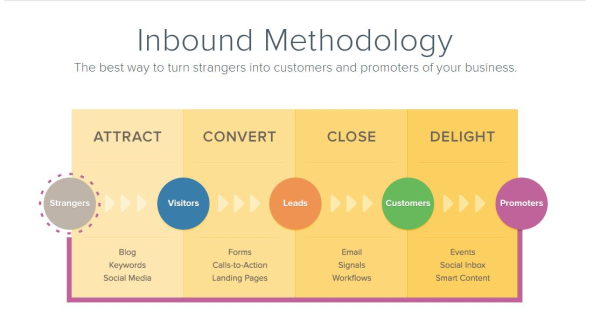 Image source: HubSpot
As we can see in this image, inbound marketing is focused on attracting strangers to become visitors by using relevant keywords to create compelling blogs, offers, and social media. These three components are ways to reach out to those who may not normally be familiar with a company's website and to help them become interested in what your company has to offer.
After attracting these visitors, it is important to use calls-to-action, forms, and landing pages to convert visitors into leads. In order to close those leads into customers, a company must close by using email workflows to nurture the customer and keep them interested.
Finally, by delighting customers with tools that HubSpot offers like Events, Social Inbox, and Smart Content, companies will be able to turn these customers into supporters of their company. The goal is for these supporters to become promoters and tell their friends and family about the company and get them interested too.
One very important thing to keep an eye on during these steps is to evaluate and modify your marketing tactics throughout these stages in order to keep the cycle going and to be seen as valuable and credible to customers.
With 79% of adult Americans using the internet, 10.3 billion searches on Google conducted monthly, and more than half of all internet users reading blogs at least monthly (according to HubSpot), it is time for businesses to start getting on board with inbound marketing. By publishing the right content in the right place at the right time, businesses have a great opportunity to effectively reach their target market and promote their products and services to convert strangers into promoters of their business.
This is a guest post by: Our very own HaBO intern Marion Wolfe, who is studying Communication Studies and Marketing at California State University, Chico.
Sources:
HubSpot- Inbound vs. Outbound Marketing
For more information about this topic, please visit the following pages:
The Whole Brain Group- Inbound Marketing Infographic
HubSpot Webinar- How to Grow Your Business with Social & Inbound Marketing