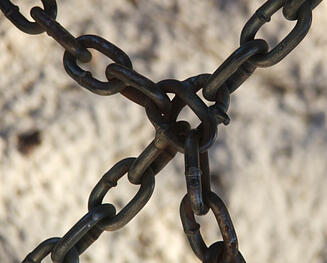 A big part of building your online presence is to have content on your website that is valuable and relevant to people searching online. When search engines see how relevant your content is and how connected or "linked" your website is, your ranking will improve on the search results page.

Link building plays a big part in showing how relevant your website is to the search engines - helping you shout "Pick Me, Pick Me!" without being completely obnoxious.
There are numerous creative ways to build links, but when deciding which type of link building services to participate in, there are four principles to live by. If your link building services subscribe to these principles when working for you, then be assured you are on the right track.
Be Knowledgeable and Relevant
First of all, your link building service should know your company, understand your industry and the online communities within your industry. Whether your link building is outsourced, or is an inside job, your story needs to be understood and content needs to be created to fit your needs as well as your customer's needs. Look for link building services that understand the online communities involved in your industry since they will provide a big majority of your high quality links and are generally made up of websites, blogs, forums, associations and email newsletters.
Another aspect of being relevant is understanding the language used within your industry, but specifically by your customers. When your link building service understands how people are talking about your products or services, the keywords used will match their searches and there is nothing better than keyword rich links that bring visitors back to your site.
Be Generous
Great link building services will be generous with outbound links. They will choose to link to websites that have useful, relevant content. Thorough link building includes adding comments and descriptions as you link. Other websites want links as well and they will pay attention to sites (like yours) that link to them. So it's OK, and even encouraged, to reach out and make new friends by being generous!
Share your content. Write a blog, create infographics. When you create great content and share with others, you will be seen as a leader in your field. When you are seen as a leader and you are link building, others will want to connect with you and share links as well.
Be on Alert
Keep your eyes open, surf the web, and always be on the search for great content, no matter where it comes from. Blogs, images, videos, infographics, social media posts and on and on…
On the flip side, keep your eyes open for link building schemes that claim to be able to build you inbound links automatically. AVOID THEM! These types of link building services will invariably involve some type of spam and will be perceived by search engines in a negative way - and ultimately will hurt your ranking and your online presence. Although these services may seem cost effective in the short run, the long term affects will be costly!
Be Excellent
In order for link building services to do their job, there needs to be quality content on your website to link to. This does not just mean quality content on your webpages describing your services and answering visitor's questions, but current content that is updated frequently. And the more frequent the better. So, to provide quality content to your website, incorporate writing into your daily routine. As with everything we humans do, practice makes perfect (or at least it make us much, much better!) When you practice writing every day, you will learn how to write great content that contains those important, relevant keywords. The more you write the more excellent your content will become.
Insist on excellence. Look for quality link building services, create remarkable content, and go after high authority links--because quality attracts more links. Getting quality links from sites in your industry is key and isn't that what you are looking for in your link building services?!
So when looking to outsource link building services or when you are evaluating your internal link building process, look at the overall picture with these 4 principals in mind and ask yourself: Are we knowledgeable & relevant, generous, on alert and excellent?
When you can find link building services that align with these four principles, as well as your company's culture and long term goals, then you are headed in the right direction.
Happy linking!
Related Articles: