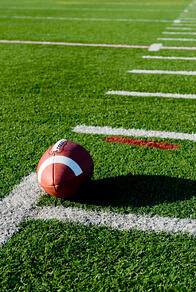 Sitting here tonight, watching the first game of the NFL 2013 season, I am reminded at how many aspects of sports can teach us about life and about business. There are so many ways playing on a team and having a common goal relates to our daily lives and (for the purpose of this blog) to our small business internet marketing strategy.
One of the questions small business owners ask is "How can I increase website conversion and get more customers from the internet?"
Well, here are a few tips I thought of as I watched the Denver Broncos dominate the Baltimore Ravens to open the NFL 2013 season. If you want to increase website conversion for your small business, then make sure you are following these tips:
1. Have a Game Plan
Just as an NFL team enters each new season and each game with a plan, as a small business, you need to have a plan as to how to go about increasing the number of website visitors that convert to customers. Without a plan, things may not change for the better this season. So set your goals, develop your strategy and get to work!
2. Know Your Stats
NFL players and coaches know their stats. This helps them to know what they have done well and focus on areas they need to improve to be better athletes and to win as a team. To create a plan that will create a win for your business in your industry, you need to know your past and current website statistics. If you don't have an idea of how you are currently performing, you can't very well know if you are increasing website conversions. When you know your website statistics such as your total traffic, click-through rates, bounce rates, form conversions and page performance, you can better evaluate and choose a plan that is right for your small business.
3. Make Sure Your Homepage Has All the Players on the Field
One of the biggest assets you have to increase website conversions is your website homepage. Make the best use of it and put your first string on the field! Make sure you have the most effective headlines, clear descriptions and that you have all the critical pieces in the right formation. Check out this great blog by HubSpot on the topic of 12 Critical Elements Every Homepage Must Have.
So many visitors come to a homepage and then leave because all the pieces are not there to keep them in the game. Make sure your business isn't getting penalized for not having 12 players on the field, because this can be a huge factor to increase your website conversion.
4. Smaller Conversions Can Lead to the Big Score!
Everyone loves to see the hail Mary convert in the end zone or the kick off returned for a touchdown, but those are usually few and far between. The real conversions happen over smaller increments; short passes or runs that keep reaching the first down yard lines. Just as in football, your website doesn't convert leads directly to customers every visit. There needs to be smaller conversions that happen in between since more than 96% of your visitors are not ready to buy right away. Offer them some great content, information to answer their questions and meet their needs. They may be in the evaluation stage of the buying process so offer them information about your business, your service or your product. Show your value and how you can help solve their problem or meet their needs. In the end you will score more touchdowns and increase website conversion!
5. Use Instant Replay
Use a software that can show you what your visitors are doing on your site, how different CTAs are working, which forms are being filled out, and which landing pages are converting visitors into leads. With a view into what really is happening in the game, you can make adjustments quickly and see which players are left wide open and which are not performing and need to sit on the bench. We are partial to HubSpot marketing software around here, but there are many different types of analytics software available to businesses to track what is happening on your website.
6. Test Out a Play-If it isn't Working, Make a Change
If you notice a landing page isn't converting visitors to leads or a CTA is getting zero click-throughs, then make a change. Don't change everything, but change variables: such as color, placement, phrasing, image, etc. Just as coaches, quarterbacks or linebackers change up a play when they see it not working, don't be afraid to test, practice and call an audible if you need to.
7. Stop and Re-Evaluate Each Quarter
Notice in football, as well as other sports, there are breaks in the game: timeouts, quarters, and halftime. During those breaks the players and coaches (and announcers) are evaluating the performance of the team; how the game is progressing, what plays are working, which are not working and they also take an assessment of the performance of the players.
Take a break to stop and evaluate if there is an increase in website conversion. Are you meeting your goals, is your game plan working, what changes need to be made and what have the results of your tests been? For the health of your small business and to keep your eye on the winning season, you need to stop every quarter and evaluate your team.
8. Hire a Great Coaching Staff
There are times when even though we know our stats and know our goals, we have a hard time getting there on our own. That's where the coaching staff becomes invaluable. Every team has a coach, and most teams have a coaching staff: a group of people who are there to strategize, to lead, to push and to discipline in order to create a team with a positive winning percentage. If you really want to see an increase in website conversion, find a consultant or internet marketing team that can help teach you how to market on the internet more effectively or even do the work for you.
9. Remember to Look at the Whole Season
There are times when we can get too focused on one play, on one quarter or even the one game. Remember that an effective internet marketing strategy is one that is in it for the long season. You may see increases or decreases in conversions over short periods of time. Don't get discouraged or so excited that you lose focus on the end goal of increasing your website conversions and getting more customers for your business.
So there you have it, 9 tips from the first NFL game of the season. If you haven't yet started playing in the game, get your team together and get on the field! If you are a veteran to internet marketing, but want help to increase website conversion for your small business, hopefully some of these tips will help you get back on your game. And remember, Half a Bubble Out is here to help coach you no matter what season your small business is in.
Related Articles: